posted 06-03-2010 08:38 AM



---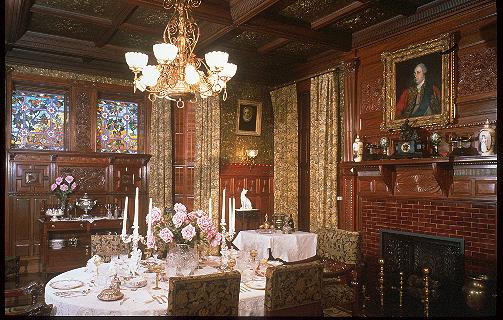 The Dining Room of the 1885 Ballantine House, Newark, NJ
Having been up to my neck in various things of late, I only just now got a chance to run through some of the recent posts in various forums. Particularly I think the decline in production of active silver patterns and the steady death of the silver manufacturing industry in the world--not just this country.
From a curator's point of view, this kind of manufacturing evolution is no less sad, but it has its place in the relentless march of history. I mean, think about it--all of the long-gone colonial silversmiths, who created a new industry out of wilderness and a small number of pretentious colonists who insisted that they be able to own silver plate to affirm their status as civilized people in the face of a vast untamed land.
The collapse of silver manufacturing in America is the logical consequence of the rise of the silver industry (along with all American industry) in the 19th century. The devaluation of silver as a status symbol, plus the rather dramatic shift in lifestyles, even among the wealthy, over the past generation, are all contributing factors.
But all this means is that we, those who care about silver from an aesthetic and historical perspective, can embrace an even strong mission: to preserve the history of silver, so that our great-grandchildren, who will probably be eating with their fingers out of paper bags (OK, a little extreme)will at least be able to go to a museum and gaze wide-eyed at displays of artifacts of diverse beauty and stunning craftsmanship, all made out of this magical white metal that was called silver.
I remember that money was actually made out of silver--and my teenaged children look goggle-eyed at me at this idea. Really? silver quarters? Are you kidding?
Plus, on top of everything else in our weird transient culture today, collecting of antiques (furniture, ceramics, glass, silver) is undering a similar sea change. The aesthetic culture and the domestic lifestyle that drove our parents and grandparents' choices has altered completely. This has happened before. Between 1750 and 1850 domestic culture in America was completely transformed. It happened between 1850 and 1950 again--and it is happening again.
So it is up to us to keep collecting; and up to museums to be keepers of the flame. Not to save the silver industry today, but to remind people, for now and forever, of the remarkable cultural history of silver and how this completely unnecessary material had such a huge impact on human culture.

IP: Logged