Ulysses Dietz
Moderator

Posts: 1265
Registered: May 99

posted 02-09-2011 11:57 AM



---
Here again (from a previous post) are the candelabra and candlesticks just purchased by Newark by private contract with Christie's. The candlesticks (13"H, four of a set of eight originally) were designed by Paulding Farnham between 1897 and 1898. The candelabra (28"H two of a set of four originally) were designed by Farnham 1898-1899). All were produced for Tiffany's massive award-winning display at the Paris Exposition Universelle in 1900. They were part of a 200-plus piece table service in the George III style--but really in the modern historicist style of 1900. Art Nouveau did not rule in Paris in 1900. It never did rule. Rich people ruled and good taste was backward looking not modernist.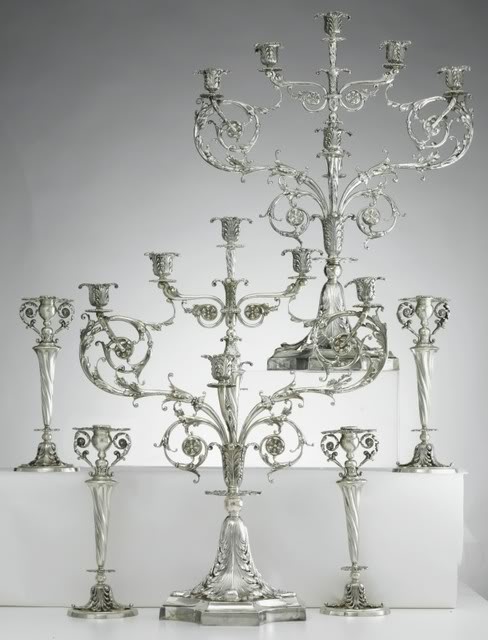 Along with these candleholders we purchased three (of an original six) graduated centerpiece dishes, which could be used to hold displays or fruit or whatever to decorate the table. Marks on these show that they were made 1901-1902, hence part of the large additions to the George III service designed by Farnham after the Paris fair.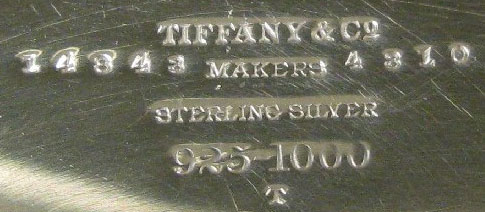 I don't have pictures of the other marks, but they have the TCO cipher imposed on a peacock feather for the Paris exposition, as well as the BEAVER mark of the Buffalo World's fair of 1901.
What made them absolutely essential to this museum collection was that they were purchased new by Franklin Murphy, former NJ governor, Newark varnish magnate, and founding trustee of the Newark Museum. Worth every penny.
IP: Logged
agleopar
Posts: 850
Registered: Jun 2004

posted 02-09-2011 03:53 PM



---
I can't wait to see these. At 13" and 28" for the candle sticks and candelabra they must be very impressive but light. Leaving aside personal taste the work is stunning! Glad you got them as both the maker and buyer are part of the Newark past.

IP: Logged
Ulysses Dietz
Moderator

Posts: 1265
Registered: May 99

posted 11-08-2011 11:33 AM



---
In studying the marks on these pieces as I was preparing my final presentation to the trustees, I noted that the "small" candlesticks were designed in 1898, the candelabra designed in 1899, and the "draped" dishes were designed 1901...The candleholders were all part of the 1900 Fair in Paris, the 1901 Fair in Buffalo (bear both marks)...but the dishes were designed by Farnham for stock in the NYC store...which is where Franklin Murphy must have bought them. They were deaccessioned by the NJ Historical Society early this year...and I worked a private sale with Christie's to keep the in Newark.

The form of the dishes is unique to the 1880-1910 era...there is no precedent for this form (or so I believe) in actual 18th-century silver. The stuff was advertised as "George III" by Tiffany's, but it is so typical of what I call "anti-modern" design of the turn of the 20th century.

IP: Logged