ahwt
Posts: 2173
Registered: Mar 2003

posted 09-08-2010 09:58 PM



---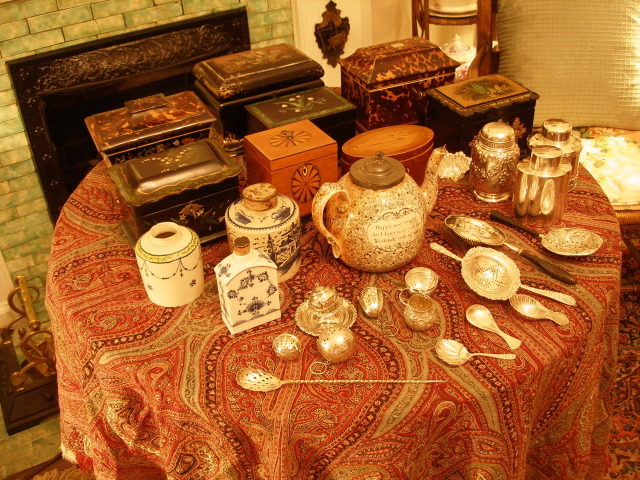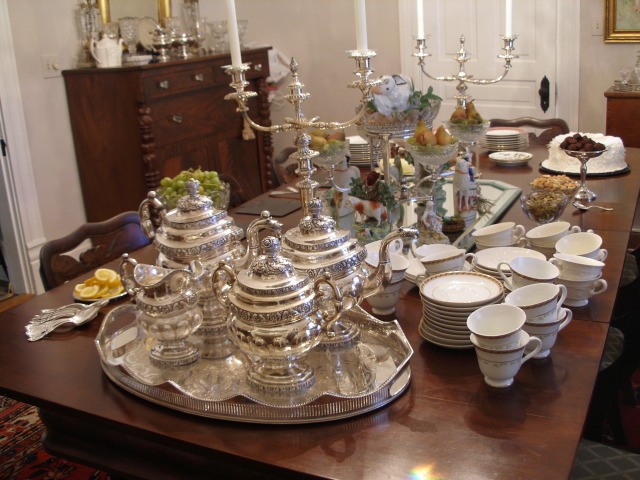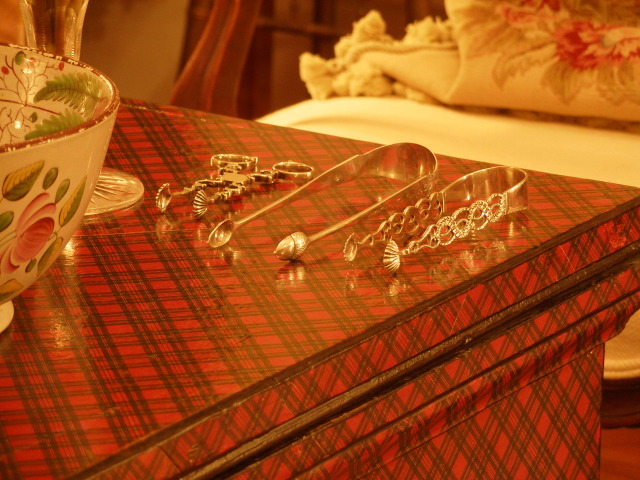 My wife had her antique group over recently to talk about tea related items. It was a chance to display some of the things that she has found and I thought you all may like to see her arrangement of the tea items and her table setting. Her idea was to just provide a few examples of tea related items; e.g. tea caddies, tea caddie spoons, tea strainers, sugar tongs, etc. She collects paisley shawls and was able to use one for a table cloth.

She seems to be tired of our epergne, but did use it one more time with a rabbit in its center bowl. I can tell however that something new is on the horizon for the center of the table. We did get to use our tea service by W. B North and Co. of New York with the extra pot that she found that we used for coffee.
Even thought the talk was on tea items she still had more coffee drinkers than tea drinkers. Nevertheless tea does seem to be very popular these days with articles about tea appearing in many magazines.
IP: Logged
Dale
Posts: 2132
Registered: Nov 2002

posted 09-09-2010 08:31 PM



---
Thank you for the wonderful photographs. It is great to see the silver in conjunction with the items used in serving tea. Could you explain what some of these are? Thanks, Dale

IP: Logged
ahwt
Posts: 2173
Registered: Mar 2003

posted 09-14-2010 10:04 PM



---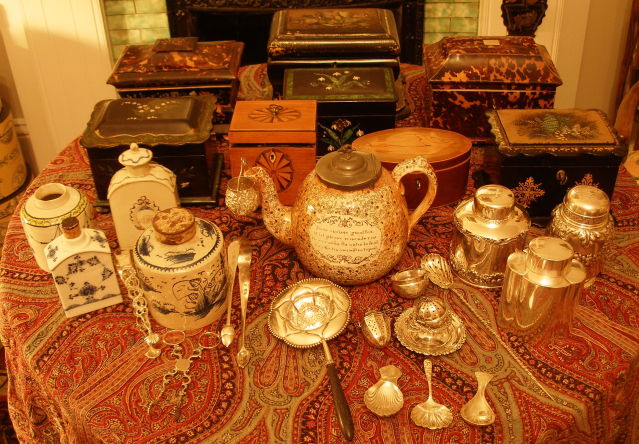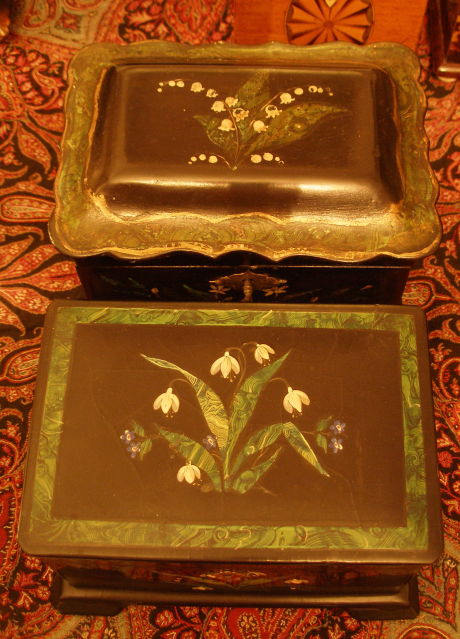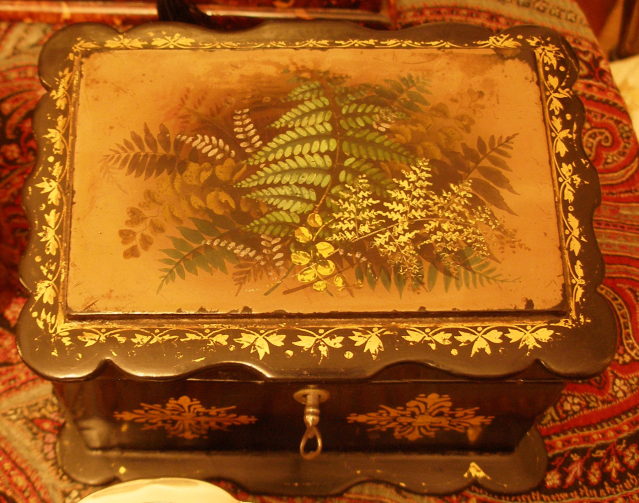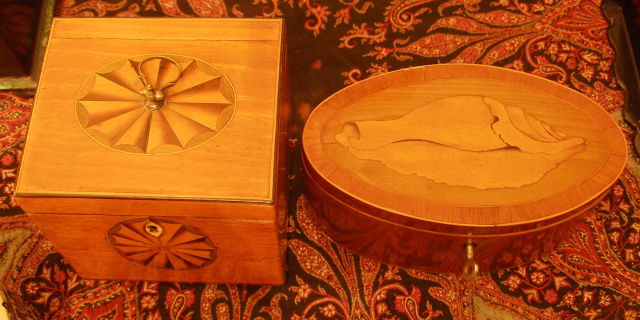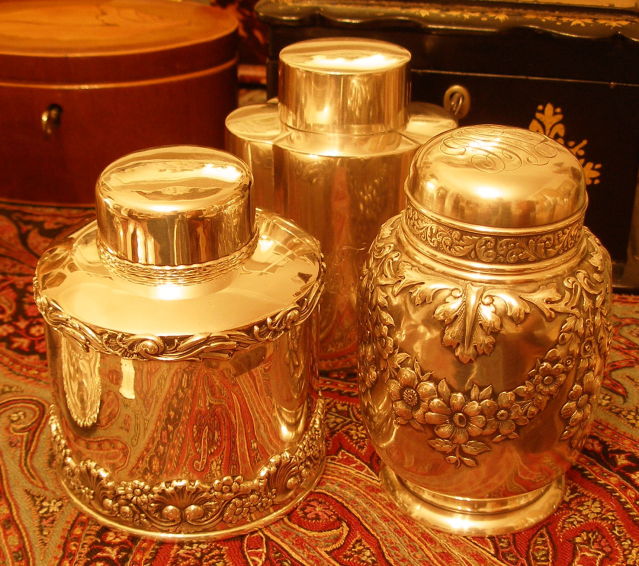 Dale I am sorry to be late on this post. We were out of town and did not have access to a computer, but I have now added a few more pictures to show the tea items better.
My wife wanted to show the various types of containers that people used to store tea leaves and a few of the items used in the making and serving of tea. These tea caddies are made of ceramic, wood, tortoise shell, paper-mâché and silver. Of all the caddies we only know the makers for a couple of the silver caddies. The silver caddy on the right is a Gorham one marked sterling with the date mark for 1892. The silver caddy on the left is marked Tiffany and Co 7623M5318 Sterling-Silver. I believe this one is also from the 1890s. The silver tea caddy in the back is marked 800 and ERUZZIP in a circle.
I think the paper-mâché tea caddies date from the 1840s to the 1860s and are painted with ferns, lily of the valley flowers and often had inlayed mother of pearl designs. These examples all have two compartments inside, but some are made with only one compartment. The two wooden examples have single compartments; with one having an inlayed conch shell design and the other has a geometric design. Most of the wooden ones I have seen described in literature are earlier than the paper-mâché type, but I really cannot date these two caddies. The china tea caddies probably all are before 1800 and were exported from China. The tortoise shell caddies are interesting as they were made in various colors with paint applied to the underneath shell. The rarest color is green and most common have the color shown; which I believe is called blond.

Tea caddies were made from ivory and other materials and no matter what they were made of they all played a role in the ceremony of serving tea.
The small tea pot is lusterware, but much of the luster is worn off. The writing on one side of the pot states:
"Trust who love good tea
Must please remember me
Be sure allow the water to boil
Then this tea you will not spoil"

And on the other side:
"Happy may you be
And long may you live
To drink out of me"

What a charming pot to accompany your tea.

The rest of the items include strainers, infusers, sugar tongs and a mote spoon. All of these were obsolete after the tea bag was invented. The tea bag certainly took some of the ceremony away from tea drinking.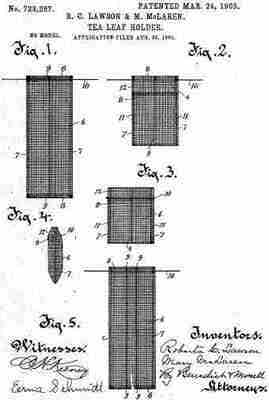 IP: Logged