wev
Moderator

Posts: 4121
Registered: Apr 99

posted 05-22-2019 05:38 PM



---
I recently found this bowl in a box of kitchen junk at an estate sale in San Francisco. It was quite tarnished, but cleaned up nicely.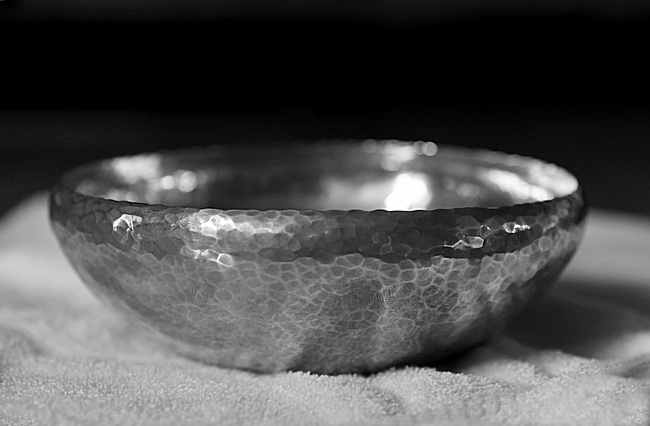 It is 5 1/4" in diameter, 1 3/4" deep, and of good weight. As you can perhaps see in my rather poor image, it is likely an amateur, though not unskilled production. It is unmarked, but has an intriguing inscription.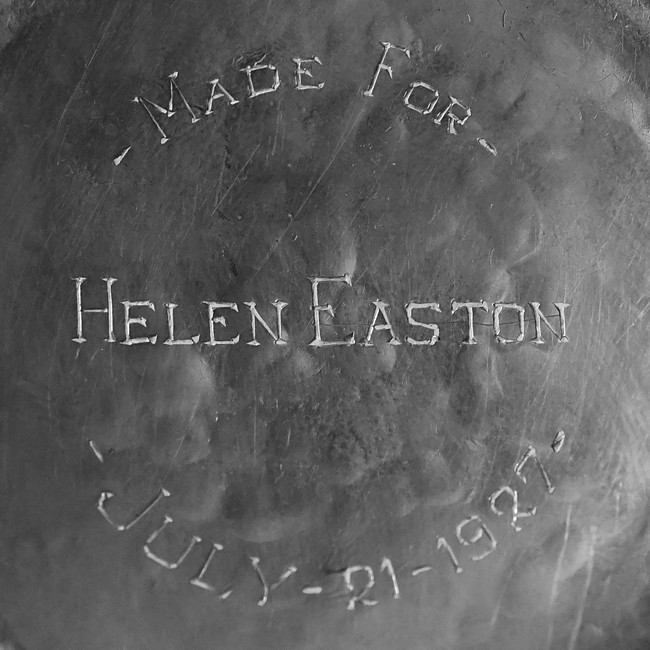 With nothing to go on, I did a google search of the name and the date, with pleasing results (or so I believe).
Helen Easton, was born o8 April 1898 and died 22 November 1983. She married Elwood T. Starbuck on 21 July 1927 in Anaheim, CA, about 10 miles from where I live. They moved to Oakland CA the next year.
She has a strong association with the Arts and Crafts movement through her father, Louis Byron Easton. He was born July 22, 1865 in Halfday IL and married Honor Adelaide Chadbourn Hubbard on December 25, 1893 in Hudson IL. She was the younger sister of Elbert Hubbard, founder of the Roycroft Community in Buffalo NY and admirer of Easton's work.
While working as a high school administrator and technical school instructor in Austin, an area of Chicago near Oakpark, he designed and built craftsman furniture, for which he won several awards. In 1902, he gave up his steady job and moved to Pasadena, California, building a home at 510 South Merengo. Though not trained as a architect, his work attracted attention and he and a small crew of carpenters built other Arts and Craft style homes in the neighborhood including 540 South Merengo, now on the national registry of historic homes. In addition, he continued to design furniture and worked in silver, copper, and glass. In 1915, he traded his Pasadena home for 20 acres in Anaheim, where he established a citrus orchard called the Pomegranate Ranch on Southwest Street. He suffered from asthma and other lung problems most of his life and died suddenly on 07 September 1921.
Which bring us to the question of the inscription. I don't believe it was a wedding gift despite the date, given the use of her maiden name alone. Was it perhaps made by her father years before and engraved to memorialize the last day she would be Helen Easton? Or a gift from her husband? Or?
IP: Logged
Scott Martin
Forum Master

Posts: 11520
Registered: Apr 93

posted 05-22-2019 10:33 PM



---
Nice find!
Great research!
Wonderful post!

Thanks so much for sharing.

More evidence that the thrill of the hunt is still possible.

As to the question of the inscription I haven't a clue but would be interested in knowing what others think.

IP: Logged
agleopar
Posts: 850
Registered: Jun 2004

posted 05-25-2019 11:29 AM



---
Just a thought on the date/ inscription. I'm not positive but I do think it was done, to give a wedding present with the brides maiden name. I might have a family piece with just grand or great grand mother's name on it only and date of the wedding, given by friends of the bride.

I love the kitchen box find story's! Best was the 1710 Boston chocolate pot, completely black, whole box $15. Bought at auction by the MFA, Boston for $110,000!!

IP: Logged