Brent
Posts: 1502
Registered: May 99

posted 10-05-2000 09:10 AM



---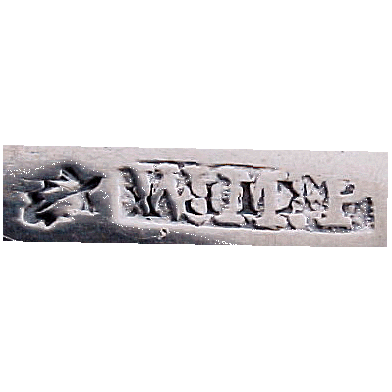 Hello all,
The attached picture demonstrates an unusual mark in American silver; an overstrike. If you look carefully, you can see that there are two marks superimposed on one another. The bottom intaglio mark (W McP) is that of William McParlin of Annapolis, MD. A leaf device accompanies this mark. If you flip the mark over, you can see the incuse mark of Samuel Kirk (KIRK) struck over McParlin's.
Overstrikes such as these are relatively rare in American silver. They usually are the result of a smith buying finished silver from another maker, perhaps to fill a special order or to take advantage of another smith's specialty. In America, it seems that most such silver was left unmarked by the maker, and bears only the mark of the eventual seller. For example, silver from Paul Revere's workshop has been found with the marks of other silversmiths, and vice versa. In England, the maker usually would place his mark on the finished product, and the seller would overstrike it with his own mark.
McParlin had a long career, working in Annapolis from approximately 1803 to 1850. According to Ensko, McParlin's surviving account book from 1827-1850 shows dealings with Kirk, Hugh Gelston, George Webb, and other Baltimore silversmiths. This piece (a salt spoon) appears to be physical evidence of such business relationships. I have spoken to a Maryland collector who has other pieces with the same overstrike mark. Keep an eye out!
IP: Logged