Brent
Posts: 1502
Registered: May 99

posted 10-25-2000 09:07 AM



---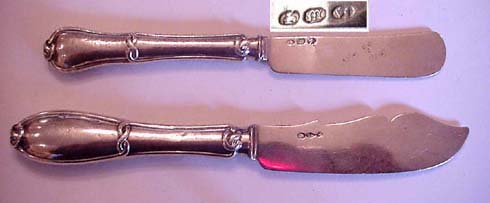 Conventional wisdom is that Morgan Morgans, Jr., who took over the business of Albert Coles in 1877-78, continued to use Coles' mark and never had a mark of his own. The mark illustrated here, on the first of two "Triple-Knot" pattern knives, could very well be Morgans' own mark. The mark of [eagle][M][Head] is very similar to one of Coles' marks, with the substitution of the [M] for Coles' AC in diamond. This same mark was attributed to a "Morgan", location unknown, by Ernest Currier in his "Marks of American Silversmiths". If you look at Currier's entry, you will find that both this mark and an incuse MORGAN stamp are attributed to this unknown Morgan. One can reasonably conclude that both marks appeared on the same piece, or how could Currier assign the M mark to a "Morgan"?
The two knives illustrated here are very similar, although not exactly the same. The lower knife has one of Coles' usual marks.
As I see it, this evidence seems to point towards Morgan as the user of this mark. If so, though, why is it so rare, and why did Morgan use Coles' mark on the "Cupid" pattern, which Morgan patented? In 1877, Coles' factory initially passed into the hands of Samuel Montgomery, an erstwhile salesman for Coles, before Morgans assumed complete control in 1878. Perhaps this mark was Montgomery's, and was discarded in favor of Coles' well known mark when Morgan took over. This would explain the rarity of the mark.
Any ideas? Thanks to Trefid for the pictures and hypotheses!
IP: Logged
wev
Moderator

Posts: 4095
Registered: Apr 99

posted 10-25-2000 11:10 AM



---
Thanks for the possible solution to another mystery. I have a hollow handle butter knife in the olive pattern with the M mark. Lacking a copy of Currier, I was never able to put a name to it. Actually, I was never sure if it was an M or a W -- it is struck such that holding the knife normally with the edge down, the letter reads as a W. It appears from the scan that this is also true of yours, yes?

IP: Logged