Paul Lemieux
Posts: 1768
Registered: Apr 2000

posted 11-18-2000 08:56 PM



---
This is a pair of American coin silver serving spoons that I have, and each is about 8-1/2" long; the handles are engraved with Japanese-inspired motifs, including plant stalks, butterflies, and geometric bands. They are only marked "COIN" and "B. M. CHAMBERLAIN & SON," the retailer. I don't know the manufacturer (if anybody has a guess, I'd love to hear it). In his "Silver Medallion Flatware," Soeffing suggests that silver manufacturers capitalized on the new craze for medallion silver flatware by issuing engraved flatware while the time-consuming dies were being prepared. I don't see any reason not to think the same is true for Japanesque flatware. However, this is one of the few, if not only, examples of Japaneseque COIN silver that I have seen, presumably because by the time Japanesque flatware was becoming highly popular, most makers used sterling. I wonder if these spoons are early examples of Japanesque flatware, or simply made in the early 1870s by a smaller-scale maker who hadn't converted to sterling yet.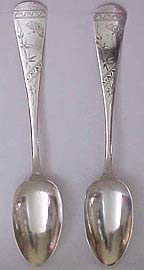 (sorry for the dark reflection on the spoon on the right; I guess I didn't notice it when I took the picture)


Any insights would be appreciated.
Paul
p.s. I'd also like to see any other examples of American coin silver with Japanesque decoration.
IP: Logged
wev
Moderator

Posts: 4095
Registered: Apr 99

posted 11-19-2000 09:41 PM



---
I am afraid I can't offer any examples from my collection; I am alergic to the motif apparently. However, I have seen a number of examples in both coin and sterling in shops marked and retailed by Vanderslice in San Francisco where the Japanesque craze found a ready home among the bohemians. I know that the company bought wares from a variety of eastern manufacturers, but I can't remember seeing any with a maker's mark.

IP: Logged