Brent
Posts: 1502
Registered: May 99

posted 11-17-2002 10:42 PM



---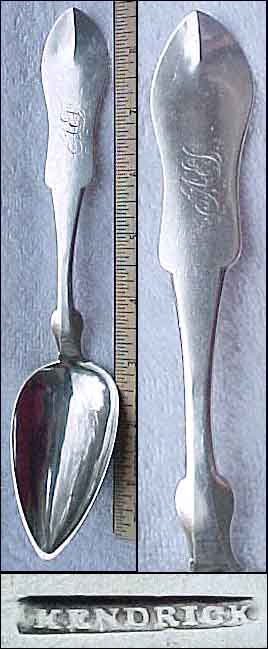 Hello all,
Here is a tablespoon of unusual form, with what may well be an undocumented mark for William Kendrick of Louisville, KY. The spoon, with its outsized bowl, broad shoulders and wide flared pointed fiddle handle, is a quintessential example of regional style in American coin silver. Even unmarked, the shape tells you that it is likely from Kentucky, southern Ohio or points west.
As it is, the spoon bears an intaglio mark of [KENDRICK], as shown. There is a possibility that the mark is an overstrike, but I can't be certain. Although incuse Kendrick marks are found on a wide variety of plain and early pattern coin flatware, I have never seen an intaglio mark before and have been unable to find this mark in any reference. It is hard to pin a date on this item; it feels older, and it may be one of the pieces made locally by James Barnes for Kendrick early in his career.
Does anyone have other pieces with this mark? Can anyone shed any more light on the subject? Any contributions or disputations will be welcome.
Brent
IP: Logged
wev
Moderator

Posts: 4095
Registered: Apr 99

posted 11-17-2002 10:59 PM



---
I saw this on ebay just yesterday (item 921554707) which looks a fair match to your spoon, though slightly less exaggerated.

In this case the mark is incuse and stamped over that of H(enry) HUDSON, who worked in Louisville 1841-1880.

IP: Logged
Fitzhugh
Posts: 136
Registered: Jan 2002

posted 11-20-2002 10:23 AM



---
This is a version of what's been labled the "Louisville Handle" to denote a handle variation developed by that group of silversmiths in Louisville including Kendrick, Barnes, Hudson, & Kitts. It is speculated that Barnes made these wholesale, but that is unlikely. More reasonably each of these firms copied the style that caught on in popularity in Louisville about 1850.

IP: Logged