Brent
Posts: 1502
Registered: May 99

posted 11-21-2002 12:15 PM



---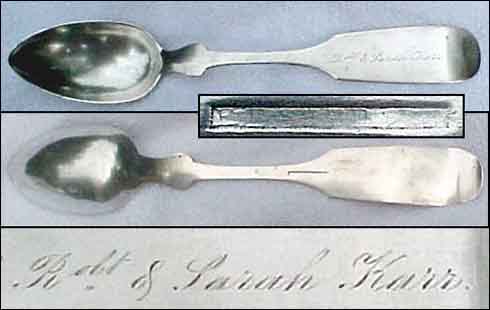 Here is another Kentucky tablespoon with an interesting story. The shape is not so "Kentucky" as the other, but it is unusually narrow and elongated, with equally large shoulders. That is what drew me to it in the first place, as the piece was all black whan I found it and the mark was illegible.
After cleaning, I was able to read the mark as E.E. SHEPARD (badly rubbed, but readable). According to Boultinghouse, a spoon with this mark in the collection of the Cincinnati Historical Society. Apparently Mr. Shepard was working in Newport, KY (across the Ohio River from Cincinnati) at least as early as 1831, and later worked at the Kinsey factory. Apparently pieces with his mark are not terribly common, as the mark is not illustrated in Boultinghouse's book.
What is really interesting about the spoon is the history that WEV was able to track down for Robert & Sarah Karr. The Karrs were maried in Brown County, OH on March 19, 1829. Brown County is about 40 miles upriver from Newport, and it is not hard to suppose that this spoon was either a wedding purchase or something from early in their marriage. I was able to find record of a couple of the same name giving their daughter away in marriage in Miami County, OH in the 1850's, which fits in well witn the rest of the history.
Anyway, it is neat to be able to tie a piece to its original owner, and it doubles the enjoyment of owning such a piece.
Thanks again to WEV for his help!
Brent
IP: Logged