Brent
Posts: 1502
Registered: May 99

posted 03-26-2003 07:54 PM



---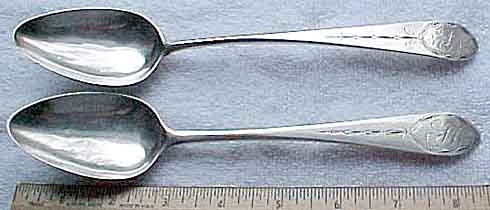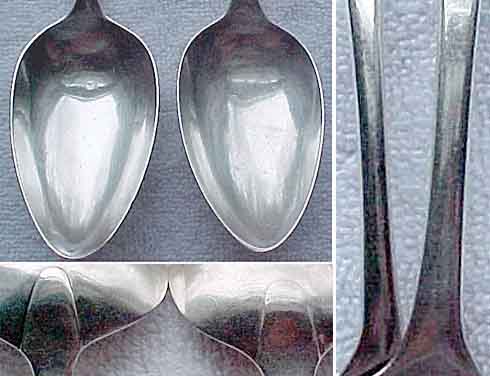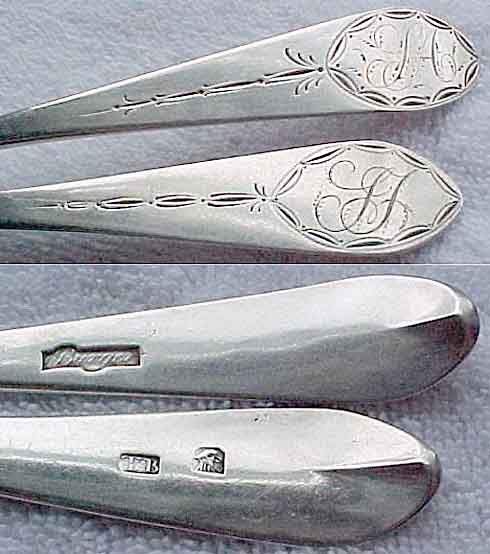 John Burger was one of the premier NYC silversmiths of the federal period. He was joined in his workshop by son Thomas somewhere around 1800-1805. One would expect there to be a great simlarity between pieces produced by both men, as they likely shared tools, designs and equipment.
Here are two late federal bright-cut table spoons, one with the mark of John Burger and the other with Thomas'. I thought it would be fun to compare the two. The spoons are certainly similar, but not at all the same.
Both spoons are of good quality, made of decent gauge silver. The John Burger spoon measures 8 3/4 inches long, while the Thomas Burger spoon is 8 1/2. The bowls are practically identical in size and shape. However, the drop on the Thomas Burger example is broader and less pointed than his father's. As these drops were formed through the use of a swage, or iron die, it is apparent that different swages were used, which surprises me a little.

Moving on to the stem, the John Burger stem is narrower in width but deeper and more rounded. The Thomas Burger stem is flat and broad, and less deep. The handles are similarly shaped, but the John Burger spoon is more arched than his son's, which is rather flat. The bright cutting is very similar, but one can see little differences of technique between the two spoons.
Anyway, I find it interesting. Does anyone else have any father/son comparisons to contribute?
Brent
IP: Logged