Brent
Posts: 1502
Registered: May 99

posted 03-31-2003 10:11 AM



---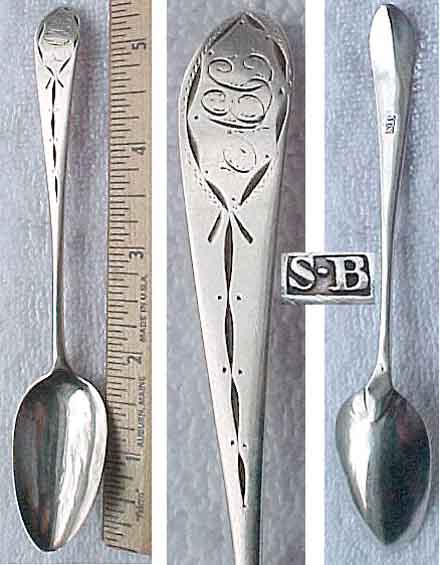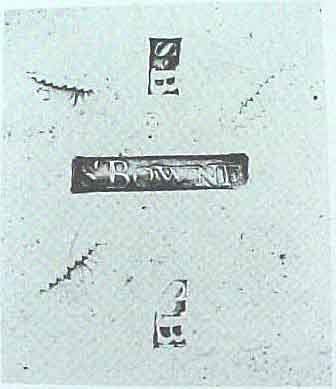 Attached is a picture of a spoon of mine with a well recorded mark. This SB mark has long been attributed to Samuel Buel of Middletown and Hartford, CT, working circa 1777 to 1819. The exhibition and collection catalog "ELEGANT PLATE: Three Centuries of Preciuos Metals in New york City" (Museum of the City of New York, 2000, Deborah Waters, ed.) attributes a very similar mark to one Samuel Bowne of New York City, working circa 1798-1817. I have illustrated the mark from the book, which includes both initial and full name marks, for comparison. The marks are on a Federal Style tea service with bright-cut engraving. Note that some other marks have been erased, presumably those of another silvermsith.
As far as I know, the MCNY catalog is the first publication to really discuss Mr. Bowne. My spoon is certainly in the New York style, though of course it was not confined to New York. Do you think that a mark reattribution may be in order, or am I imagining a closer resemblance than actually exists?
Brent
IP: Logged
labarbedor
Posts: 353
Registered: Jun 2002

posted 03-31-2003 03:58 PM



---
It could be possible, but here are the problems I see with your mark being Bowne's. This is a picture of a Bowne beaker, to my eye the engraving isn't the same. I realize it is not necessarily engraved by Bowne and that a silversmith would engrave a beaker more carefully than a spoon, but just the same it doesn't help your case. A bigger problem is that Hammerslough shows three pieces of holloware that he says are marked S pellet B. He was pretty careful so let's presume all are marked with your mark. Although we are not talking about porringers which have clearly different styles, all three pieces have a very Conn. look about them.

Maurice

IP: Logged
wev
Moderator

Posts: 4095
Registered: Apr 99

posted 04-02-2003 03:48 PM



---
Here is a picture of one of the Hammerslough pieces mentioned above. It is thought to be the only coffee pot attributed to a Connecticut maker.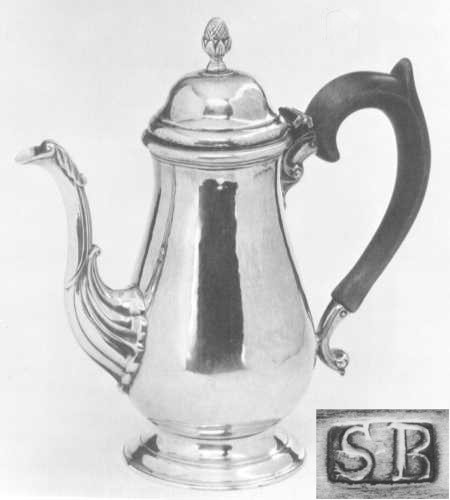 The Buel mark shown by both Hammerslough and Belden appears different in the basic form of the S and B compared to Brent's or the MCNY piece. The mark shown in Flynt and Fales, on the other hand, appears nearly identical to that attributed by Waters to Bowne.
IP: Logged