Brent
Posts: 1502
Registered: May 99

posted 04-07-2003 01:40 PM



---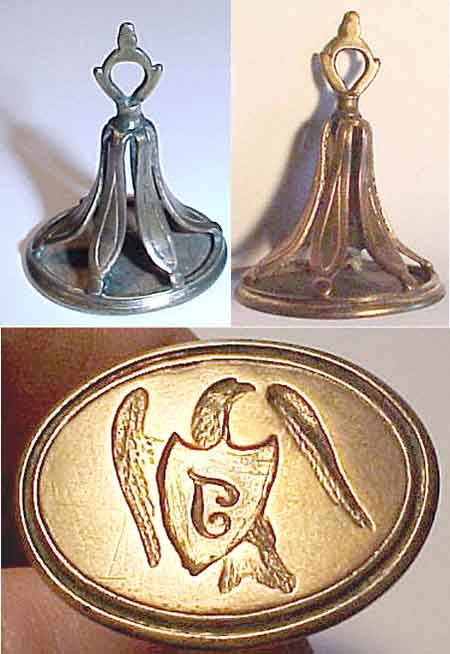 Hello all,
I am a sucker for old metal objects, and I thought I would share this nice old seal in the form of a federal eagle. The upper part is probably brass, but the face may be copper, or even a low grade gold. Regardless, a neat piece to my eyes. Does anyone else have some good old seals to share? I find them compelling, as they were very personal objects.
As an aside, does anyone know what symbols, if any, were adopted by the political parties in the young United States? We know the English had a tradition of displaying allegiance to a cause through decorative art iconography. The Jacobites, for example, used certain coded symbols on their silver to demonstrate their political leanings.
My question is, was this tradition carried over to the U.S? Did use of the "Federal Eagle" imply some allegiance to the Federalist party ? Likewise, did the purchasers of spoons with dove and olive branch motifs support the early Republican party of Thomas Jefferson? This is just something that occurred to me, and I wondered if anyone had explored the possibility in the literature.
Brent
IP: Logged
labarbedor
Posts: 353
Registered: Jun 2002

posted 04-07-2003 04:27 PM



---
I agree seals and other personal items like spectacles, miniatures, pencils, and canes are particularly interesting. They are often engraved with names and interesting inscriptions. Unfortuneately my best seals are from Europe or the Middle East and so not very appropriate to post here.
I have never studied the possibility of the eagle or dove representing a particular party, but can think of several reasons it seems unlikely. First since some silversmiths, pewterers, etc include these icons in their maker's marks, it doesn't seem reasonable that they would take such a political stand. It would seem they would not want to alienate some of their possible customers. Second if the dove back spoon is meant to show an affiliation to a particular party, wouldn't it seem logical that there would be an opposing party logo which was just as common. I don't remember seeing any eagle back 18th century spoons, and only a few 19th century ones. Of course being an admirer of Ben Franklin I always hoped to find a turkey back spoon, but haven't yet.
Maurice

IP: Logged
Fitzhugh
Posts: 136
Registered: Jan 2002

posted 04-08-2003 07:18 AM



---
I have an American coin silver seal stashed away somewhere, if I can just find it and get an image of it! It's by Henry Biershing, Hagerstown Maryland, ca. 1800, no later per the form. It's very comparable to this one shown, but no eagle! It just has an initial design.

IP: Logged