posted 11-23-2003 11:38 AM



---
Can anyone identify the makers mark of O*C on this pair of knee buckles please ?

Originally I believed them to be Irish but now feel are probably American - and I have no references on American silver – we do not see much of it in England !

Stylistically date is around 1745 –1760, size is 23mm by 28mm (roughly an inch square)

There is a Roman numeral VIII scratched on the backs, which I have only seen on American buckles (including one by Myers of Philadelphia), although an Arabic number (always even) is very characteristic of Irish buckles

There are two makers marks on each buckle and the remains of a diagonal mark in one corner of one buckle which could be a Lion Passant with cut corners or the extreme left hand side of a Hibernia. This is an unusual place for an assay mark but not unknown in English buckles. Only the top section of the mark survives, the rest being apparently filled in with solder. There are indications of other filled in marks – again not unknown as retailers often added their own marks to items bought in from other makers.

If English or Irish the chape is atypical and there is no known English OC although it may be a mark in the lost London smallworkers book of 1739 –58 .

Owen Cassidy of Dublin (free 1753, died 1816) seems possible. He had a dissimilar mark in 1780 recorded by Jackson on a pair of tongs and Henry Nicolson, a known bucklemaker, was one of his apprentices.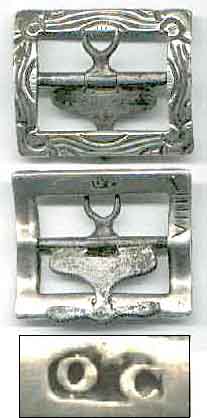 IP: Logged