wev
Moderator

Posts: 4095
Registered: Apr 99

posted 01-29-2006 08:27 PM



---
Here are a pair of spoons I hope someone will recognize.

1) This spoon is of substantial weight for its 6" size. My first thought was Canada, but found nothing in my meager references.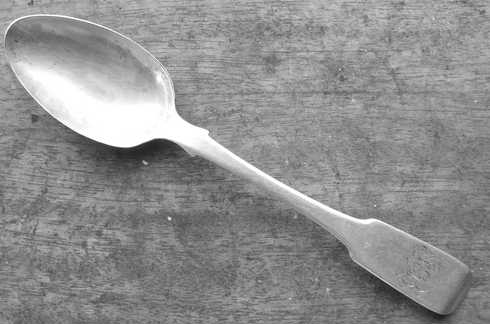 [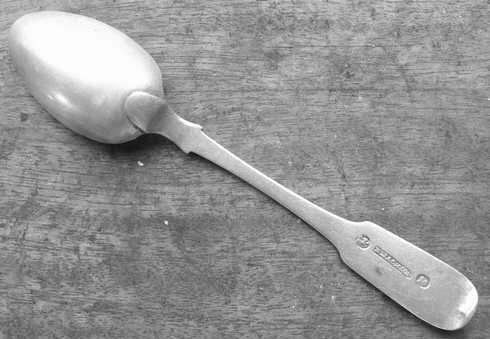 2) This is a nicely made tablespoon. I would have thought, with all the Noyes family makers, that I would be able to track this one down, but alas no.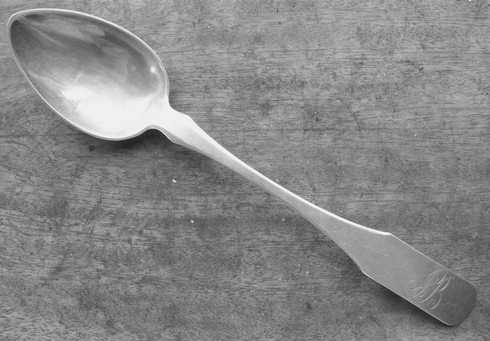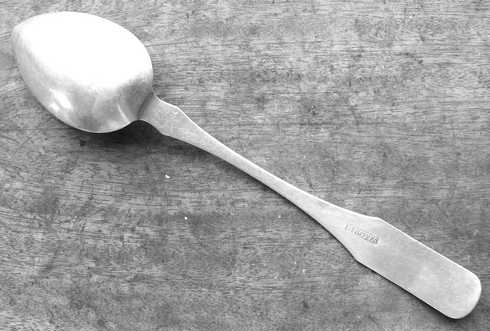 Thoughts, anyone?

IP: Logged
t-man-nc
Posts: 327
Registered: Mar 2000

posted 03-15-2006 04:41 PM



---
WEV,

R.Jackson (-c1830) Montreal, Que (see mark of S. Marion) as shown on Pg. 89 Canadian Silversmiths 1700-1900 John E. Langdon.


Saloman Marion (1782 - 1832-) Montreal, Que. Born in Lachenia, Quebec, in 1782, apprenticed to Pierre Huguet dit Latour for 5 years 23 July 1789. Located at 10 St. Francis Xavier Street in 1819. Known to have overmarked silver with the punch of Lovett. Name appears in Notra Dame parish church records. Avertised as early as May 1816 in Spectateur Canadian. Made silver vases for church at St. jean d'lberville in 1832. The picture on this page show Marion between the same puch of the lion and bust but in reverse order "Bust - name - Lion"

I don't have anything on "H. Noyes"... Sorry...


"Smaug"

IP: Logged
PeterS
Posts: 33
Registered: Mar 2006

posted 06-20-2006 03:02 PM



---
Idon't know if this helps, but found on a site for Onieda

100 Stone Cottage, Niagara Fall, Canada.

"In this charming old English house at Niagara Falls, Ontario, Mr. Noyes spent the last years of his life, from the break-up of the Community in 1879 until his death, April 13, 1886. A loyal family surrounded him - Mother Noyes (H. A. Noyes), H. H. Skinner, Miss Jane Kinsley, Mrs. Ellen Miller, Miss Chloe Seymour, Mr. Herrick, Mr. Seymour, and a group of young people in their early teens, Humphrey, Pierpont, Holton, George, and Gertrude. The work of the house and barn and garden was divided among the members of the family. Open house was the rule and there was a constant flow of visitors from Oneida and from Community families living across the river. The long dining-room table usually seated a dozen or fifteen people. A meeting was held every Sunday afternoon with thirty or forty persons present, when Mr. Noyes usually talked, and often home-made wine and cake was passed. After Mr. Noyes' death, the Stone Cottage was rented to various families for some years, among them Pierpont Noyes, and Deming Smith, and finally was sold to the Oneida Community, Ltd. for a Canadian silver ware factory in 1890? In 1925 it was torn down and a fine modern factory built on its site."

IP: Logged