posted 08-29-2007 06:23 PM



---
[26-1489]

I recently purchased a Hanoverian teaspoon on a popular internet auction site for 99 cents. (yes really). I took a flier on a murky out of focus photograph based on the form alone, and it turned out to be genuine.

While I'm sure to many of you this is old-hat, to me it is exciting in the extreme. The spoon is beautiful, but comes with a little mystery as well.

The form has teaspoon dimensions (maybe 5 inches long). It features a very prominent topside midrib, and a very deeply fan-decorated drop. (looks applied rather than swaged to me, but I have little experience with spoons of this age).

I have seen a fair number of Hanoverian spoons, but generally larger spoons, and none of them flared as late on the shaft as this one does.

The spoon is in truly outstanding condition, except of course (as luck would have it) for the maker's mark, and the inscription.

Both are very obviously there, but well-rubbed. The maker's mark is "IC" in what looks like a punch with rounded corners (almost a round punch) rather than rectangular (sorry about the weak photos)

The inscription is in block roman, but the only discernible character is a "K".

The cast of 18th century characters using an "IC" maker's mark is relatively extensive according to my references. I am trying to narrow the field with a little deductive reasoning... this brings me to my questions.

1) Is there anything about the form itself (the relatively high flare on the shaft in particular) which would narrow the date range?

2) Is this particular form of drop decoration particular to any maker, or to any geographical area?

3) Does the inscription (not much to go on but the "K") help date the piece by the style of the letter?

4) Does the bowl shape or the drop have anything to tell me?

I know these are quite a few questions, but I'm eager to learn more about 18th century American silver. I have collected 19th century Southern (and particularly Baltimore) coin for awhile, but the more of these early pieces I touch, the more they get their hooks in me.

I'm getting the bug.. (bad)

In any case, thanks in advance for any insight you might provide.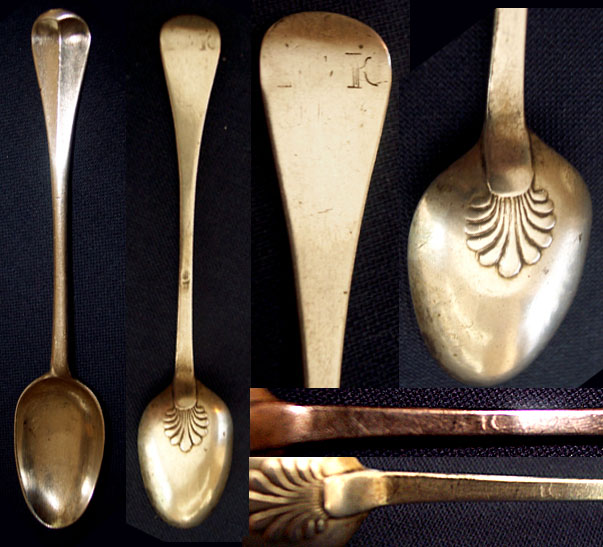 IP: Logged