bascall
Posts: 1629
Registered: Nov 99

posted 10-30-2008 04:37 AM



---
I just bought a Demilt salt spoon that got me looking into the Demilts a little. Obviously, the first place to look
is Wev's American Silversmiths Family Tree, and occasionally there is some information that he has not yet
gathered or updated. Here is some of what was available on them:

In the Manhattan 1829-30 City directory, Benjamin and Samuel Demilt are watchmakers at 239 Pearl.

Benjamin Demilt appears often in the Minutes of the Common Council of the city of New York from 1801 to 1820 concerning
fire engine company assignments and the office of regulator of public clocks. Samuel and Thomas were also involved with the fire department.
(It seems most of the responsible and able merchants did their part in support of the fire engine companies).

Benjamin and Samuel are also listed in the New York Genealogical Records for New York City from 1815 to 1835 as a watchmakers, and Thomas is listed in 1815 as a watchmaker.


Encyclopedia of American Quaker Genealogy. Vol. III: (New York Monthly Meetings) has the following for the death dates of these Demilts: Benjamin born New York died 4-2-1835 age 55
Samuel born New York died 5-23-1845 age 58
Thomas born New York died 3-25 1816 age 48





IP: Logged
Polly
Posts: 1970
Registered: Nov 2004

posted 01-24-2015 11:56 AM



---
Here's a pair of Demilt tongs I just bought (I love the current low melt price of silver!).

It's marked DEMILT and also B. Has anyone ever seen that B on a Demilt piece before? I'm speculating that it's Benjamin's, to distinguish the brothers, but I have zero evidence for that.

Apparently Benjamin and Samuel made an astronomical clock (with an extra pendulum and a case), three box chronometers, and a watch for the United States South Seas Exploring Expedition of 1838-1842. Here's Benjamin in 1829 testifying that they really, truly did make these instruments for the Navy

Here are my tongs:

Monogram TH or HT, I think:
Mark, with the B: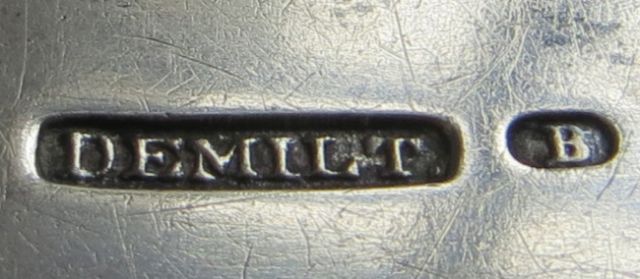 My guess, based on the shape of the arms, is that these were made c. 1820s-30s, but before 1835, when Benjamin died. Anyone agree or disagree?
IP: Logged
wev
Moderator

Posts: 4121
Registered: Apr 99

posted 01-24-2015 04:27 PM



---
McGrew shows the same mark combination, attributing the B to a shop journeyman, which is as likely as not.

IP: Logged