posted 10-12-2002 12:54 PM



---
[01-0850]

Can anyone offer any insight as to the maker of this apparently Colonial era spoon? It has 3 touch marks, an eagle, an upraised arm holding a hammer, and a profile of a head and shoulders. No other marks on spoon and the shank has clearly been attached to the bowl.

Thanks!
Diane

....I have two of these spoons, in terrible condition but very old and they look like coin silver. They are monogramed AL.

..... here are the marks..


.....from reading your forum for 5 minutes, I can tell you're going to want a picture of where the bowl meets the stem.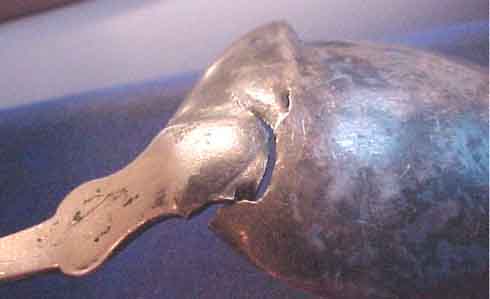 The bowl/stem pictures....
As I said, these spoons are in terrible shape, with the bowls torn as you can see. They are blackened and I polished one of them to the extent you see. They are about the size of modern day large soup spoons at 9" long.
And thanks again for being there!
Diane
IP: Logged