ahwt
Posts: 2173
Registered: Mar 2003

posted 02-10-2019 11:49 PM



---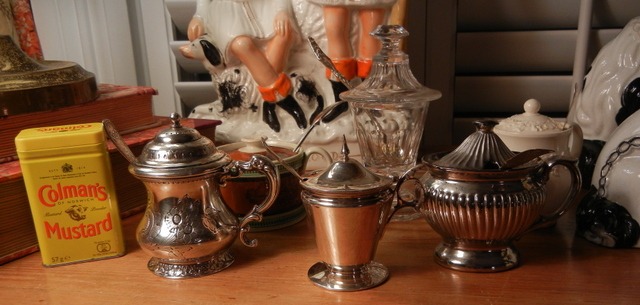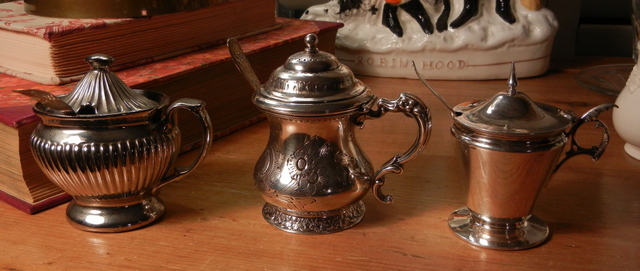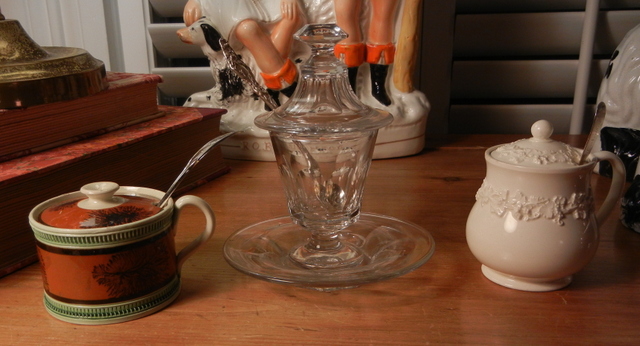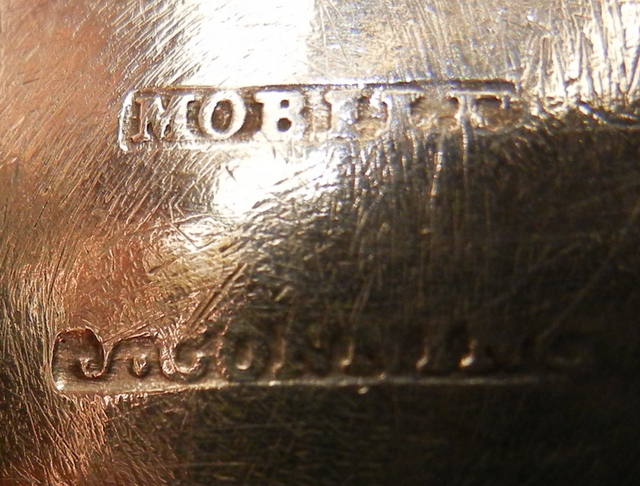 Here is a little collection of mustard pots in silver, pottery and glass. The only ones that are marked are the two silver ones. One is marked R and W. Wilson Philadelphia and the other J. Conning Mobile. One of the pottery pots is an unmarked cream ware pot most likely from England. The Mocha ware pot is also unmarked and it is most likely from England and dates to the 1830s. I used to see more Mocha ware articles, but lately they seem to be hard to find. The last pottery one is in silver luster and that again is most likely from England. Silver luster is interesting as it was made to imitate silver articles, but production stopped when silver plating became practical in the 1840s. The glass jar is also unmarked and may have started as a jam jar, but it is small and could have been used to hold dry mustard at a dining table. It could be American as we had a large glass industry.
Prepared mustard was first introduced in England 1830, but I think these small pots were normally used for the dry version. The two silver pots have a gold wash and I think are from the 1840s.
Colman's Mustard has been in business since 1814 and has prepared dry mustard ever since.

IP: Logged
Polly
Posts: 1939
Registered: Nov 2004

posted 02-11-2019 10:24 PM



---
Those are all lovely. I find silver luster fascinating, and that reeded pot is a beautiful example.

IP: Logged
ahwt
Posts: 2173
Registered: Mar 2003

posted 02-12-2019 11:56 PM



---
Asheland and Polly thanks for your comments.

One article I read about mustard pots said the early ones (from the 17th century) were blind casters. That is they looked like a sugar caster, but the lid did not have holes. Instead of shaking the muster powder out you opened the lid and used a spoon to get the mustard.
There must have been lively competition between the potters and the silversmiths for the business of the tea drinkers. The silver luster pot is just one example of the potters copying a silver design and I am sure that examples could be found where the silversmiths copied designs from the potters.

[This message has been edited by ahwt (edited 03-06-2019).]

IP: Logged