swarter
Moderator

Posts: 2920
Registered: May 2003

posted 06-29-2003 02:29 PM



---
Here is an example of how knowledge could prove to be a double-edged sword:

One day, some years ago, at a large and heavily attended outdoor antique market, I came upon a neoclassical helmet-shaped cream jug. I had seen pictures of these, but had never owned one. The market had been open at least three hours by then - how was it that it was still there? I examined it, and read the lengthy presentation inscription, recognized the name of the presenter, and realized that that name and the date inscribed were too late for the style of the pitcher. I turned it over, read the name of the maker, and knew that it was indeed about a century out of period. A wave of disappointment washed over me, as I realized why it had not been picked off - I handed it back, and went on. Another couple of hours passed, and as I prepared to leave, another wave of emotion passed over me as I realized with a shock what I had done - how dumb could a person be? I rushed back to the sellers' booth, expecting it to have been long gone, but no! It was still there, and I grabbed it up!

Now, I had no idea whether or not the sellers or any other potential buyers knew who Ralph Waldo Emerson was, or that he was one of the best known poet - essayists in the history of American literature, but I surely did! Whew! I would still be regretting it had I lost it.

The inscription reads as follows:
quote:

---

From the family of / RALPH WALDO EMERSON / by his desire / to / CALVIN H, SAWIN / in acknowledgement of / his kindnesses / to them all / 1887

---
The next tasks were to determine just whom Calvin H. Sawin was, what the kindnesses might have been, and why it had taken 7 years to execute his wish (Emerson had died in 1882, following a lengthy illness). Was he a family friend, a physician, an attorney? I searched the census lists and the multitudinous published volumes of correspondence of Emerson himself, his wife, and daughter, all with no avail. There was no mention of this man. I put the matter aside, until not long age, when I had gotten a set of CDs with business directories to aid in identificattion of various craftsmen's names. On a chance I searched the Massachusetts directories for him, and in a Boston directory for 1890 there was Calvin H. Sawin - a baggage master on the "F.R.R."
A further search of genealogical records now available on the internet revealed a Calvin Houghton Sawin, born in 1820, but nothing else. He would, however, have been 69 years old on receiving this rememberance - was this something planned before Emerson's death to be given on his expected retirement, or his 70th birthday, or did it merely take that long to probate the will and get the pitcher made. It must have been a special commission, rather than a stock manufactured item, as there is much evidence of handwork in addition to the spinning marks underneath the foot, and there is the added stamp of "MAKERS" to the mark of Bigelow Kennard & Co.
What the "kindnesses" might have been remains a matter of conjecture, but in all probability are related to one or more journeys taken on that railroad.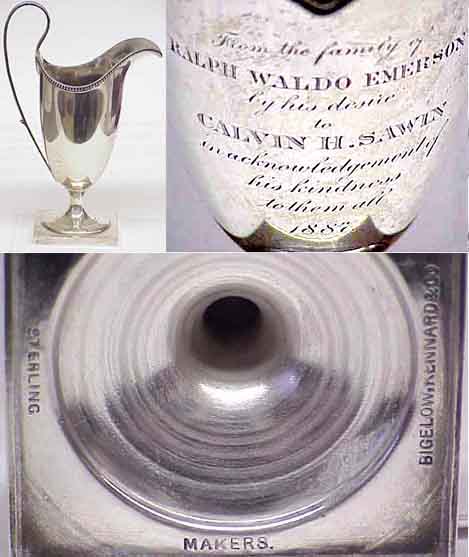 IP: Logged
wev
Moderator

Posts: 4084
Registered: Apr 99

posted 06-29-2003 05:44 PM



---
A great story and a great piece. I may be able to add a bit to the mysterious Calvin H. Sawin. There were actually two men of that name listed in the 1880 census; the first you cite, a railroad baggage handler born in 1824. The second was Calvin Houghton Sawin, born in Natick MA in 1820. He was a cabinetmaker and carpenter by trade, which might be a clue. Emerson's house in Concord burned to the ground in 1872 and was re-built by popular subscription, as were its furnishings. Perhaps the second Mr Sawin played some part in the reconstruction, giving special attention to the famous man's desires and was later rewarded for his service.

It might be worth searching out Emerson's will; given the inscription, there may be a fuller explaination there.

IP: Logged
swarter
Moderator

Posts: 2920
Registered: May 2003

posted 06-29-2003 07:02 PM



---
Thanks, wev. Logic wins out again - I think you've gotten it! Sounds like I unwittingly had the right one in the genealogy and the wrong one in the directory. I know I had checked all available census indexes way back when, but I guess I hadn't checked again since the 1880 census got properly indexed and on line - the 1890 census, of course, was destroyed in a fire, so I couldn't have looked there. I guess this forum is worth something after all!!! I should know by now to ask you first, before I stick my neck out in public. Even expeerienced genealogists get like named people confused; it is easy to get careless when there are two people with an uncommon name like this and the same middle initial - if the other Calvin's H. was Houghton too, they must be related somehow - I'll have to search the genealogy sources again, but your scenario makes perfect sense. And, yes I had tried to locate the will, too, but at the time had no way of getting access to it. It might be time to try again, with the resources now available on the web. Thanks again.

Besides, the coincidence of name and occupation just has to make it right - can't you just hear ol' Calvin sawin' away on that lumber?

[This message has been edited by swarter (edited 06-29-2003).]
IP: Logged
wev
Moderator

Posts: 4084
Registered: Apr 99

posted 06-29-2003 09:54 PM



---
Ouch! Now I'm almost sorry I mentioned it. . .

I have been doing a bit of digging and so far have found no connection between the two Calvin's. The cabinetmaker's line is quite solid (and fits nicely into my silver tree); I can provide it, if desired. The railroading Calvin is cloudier. His parents were James and Eunice (Hyde) Sawin of Worcester and there is some indication that the line heads back to Maine before that, but not much else.

I think we need that will.


IP: Logged
swarter
Moderator

Posts: 2920
Registered: May 2003

posted 06-29-2003 11:13 PM



---
I've been diggiing, too, and the plot thickens - at the very least, they must have known each other. Emerson lived in Concord, North and West of Boston. The carpenter (the census doesn't mention cabinet-maker) lived in Dover, about half-way to Boston (c. 15 miles as the crow flies. He lived next to Warren Sawin, probably a brother, also a carpenter, with a son Frank, who "works for carpenter." The baggage master lived in Boston, another 10 miles or so, and had a son, Frank, who in 1870, was a Cabinet Maker apprentice! They seem to be a family (or extended family) of woodworkers. Too many coincidences here, I think, but it makes it harder to figure which of the Calvins it might have been. As you say, where there is a will, thre is a way. I am more than mildly curious to see how the cabinet maker fits into your silver tree - email it (or a link to it) to me if you don't mind.

IP: Logged