Brent
Posts: 1502
Registered: May 99

posted 10-28-2004 08:44 AM



---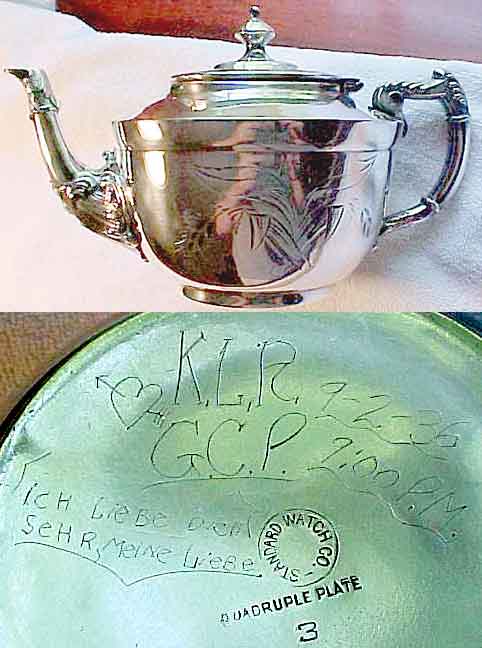 Here is a piece with an odd, very personal inscription. The piece itself is an oddity, a silverplate teapot by the Standard Watch Company. The firm is mentioned in Rainwater, but little is known about it. It may not have even been a real company, but just a trademark of another concern. Regardless, it is uncommon.
The real interest, though, is the amateur inscription on the bottom. It reminds me of something you might see on a tree or park bench. We have in German "Ich Liebe Dich Sehr, Meine Liebe", or "I love you very (much), my love". We also have a heart with an arrow through it, two sets of intitials (K.L.R. and G.C.P.), and the date "9-2-36" and "9:00 PM". I have seen plenty of dated inscriptions, but this is the first one with a time stamp! I wonder what happened just then? Marriage? First kiss? First something else? The mind wanders.
Anyway, I thought others might enjoy seeing this piece!
Brent
IP: Logged
swarter
Moderator

Posts: 2920
Registered: May 2003

posted 10-28-2004 11:34 AM



---
There are a couple of entries in The Complete Guide to American Pocket Watches that indicate that the Standard Watch Company was a Pennsylvania firm for which movements were made by the Illinois
Springfield Watch Company (1869-1927), a large manufacturer which used more company names on their watches than any other manufacturer. While some Springfield movements are marked "Standard Watch Co., Pa., it appears that this company was an independant one, as its name appears in the list of "Companies Which Illinois Made Watches For." There is no other information provided.

[This message has been edited by swarter (edited 10-28-2004).]

IP: Logged
FredZ
Posts: 1069
Registered: Jun 99

posted 10-28-2004 01:18 PM



---
It is great to see such sentiment. We sometimes get too wrapped up in the value of the item we collect and forget that it often has a history filled with emotion and, in this case, romance.

Thanks for the insight.
Fred

IP: Logged