wev
Moderator

Posts: 4084
Registered: Apr 99

posted 11-16-2004 08:45 PM



---
Having been ever so good for the past year, I decided I could risk (is my wife listening?) a small bid on that online auction site. The piece was a mildly distressed pedestrian German cigarette case in .800 silver, but it was inscribed and the text, though mis-typed and incomplete in the description, caught my eye. My meager effort won the day and it arrived this afternoon.

As it happens, my original idea of the piece's history proved completely wrong, but happily so. Here is the inscription: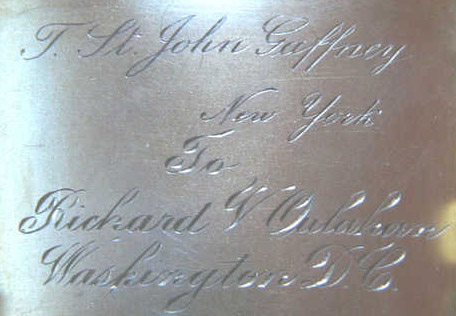 I have not had time to delve too deeply, but can say that Thomas St. John Gaffney was the American Consul General in Dresden, 1906-1913 and Munich, 1913-1915, before being recalled for his pro-German stance. Richard V. Oulahan (1867-1931) was a noted reporter for the New York Times and Sun. His primary beat was Washington DC and he was on intimate terms with 4 Presidents, coined the term 'Rough Riders' describing the exploits of Teddy Roosevelt, and distinguished himself in his reporting from the front in WWI.
How and why the case was presented is a mystery for now. The engraving is interesting; it is in two different hands and the cramped placement would seem to indicate that Gaffney gave a personal possession, rather than something bought for the giving. The front of the case bears an engraved crest -- of Gaffney?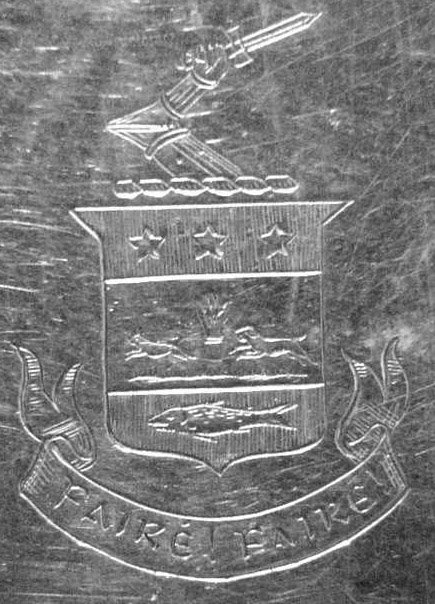 And here is the mark:

All in all, a satisfying little piece with promise of further discoveries.
IP: Logged
wev
Moderator

Posts: 4084
Registered: Apr 99

posted 11-17-2004 10:57 AM



---
Sorry, the server was down, so I moved to another.

Thank you for the verification, Patrick.

What do you make of the marks? I would have expected to see the crescent and crown, but the last looks more like one of the old state marks. Unfortunately it is very small and not struck sharply.

IP: Logged