posted 03-27-2009 09:45 AM



---
[20-0104]

Some years ago I found out that I needed something for my sugar. At an auction site I found a piece from the Danish city of Randers. Made 1813 and engraved with initials and year. That why we know the age from danish provincial silver.

Somebody wanted this more than me - so I forgot all about it.

2 weeks ago I went to a flee market. And there was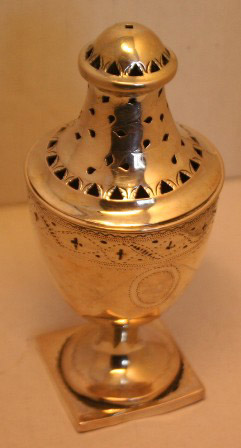 Seller requested one price that she right away reduced it by 20% - she could see in my eyes that..... - my reply I will think. I really wanted that piece - but never be to hasty in negotiating. I looked at the rest of the flee market and bought a few minor things - so did my wife. Wife is definitely not into silver or antiques for that matter.
Back to the lady in question and without shame I suggested another 20% reduce in price. Never she said my husband will never agree. My wife on the other hand stated that I never got the money for that one. I already spend to much and I had just bought .... bla bla bla...
Shamelessly I emptied my purse - and my wife emptied hers - together we could not even match my quotation. So I must request another price reduction - and she had even not agreed to the first one...
Seller said "It will be here next week then ,,,"
can you see? now we have reached my bid.
My reply "but I will not be here next week!"
Seller would ask her husband - now he was in the cafeteria - most likely drinking beer - and a little money in hand is better that more money in the distant perhabs future..
What had I bought? Empire from time or Biedermeier

- Biedermeier sucks - empire or earlier. Keep your new.... stuff.
Wife has diabetes - but whenever I eat strawberry ..... this is my sucker....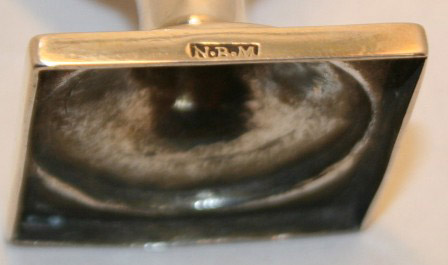 Mark N.B.M (BпїЅje 5661) is Niels Bach MпїЅrup born 1787 in пїЅdum gets citienship in Randers 30th April 1813 he dies 1850. The silver illustrated in BпїЅje is dated up to 1841.
According to danish practice one mark is expected - and fully valid.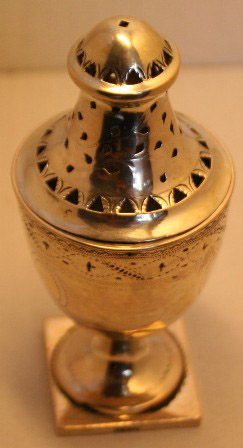 But something is missing - look at that square in top - well I must find something. A ball - a little round ball will do. Where to find ? but it is possible

Now why all this fuss in the beginning of text? Why all the talk about an finished lost auction?
Looking at old pictures - picture saved from then 2 years back in time - internet auctions are good.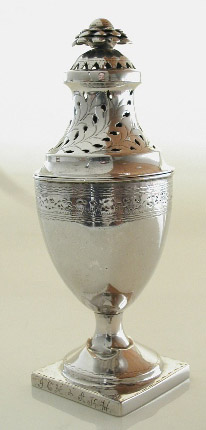 ps - where to find that top? My piece must be made shortly after this one - this 1813 one. Look the holes are similar, shape - everything..just engraving differs.
That top - wife I know what to do for the next 20 years!!!
IP: Logged