wev
Moderator

Posts: 4084
Registered: Apr 99

posted 04-06-2009 09:10 PM



---
After my mother's passing, my sibling, enjoying a good jest, declared me the family archivist. I have been going through vast boxes of bug-eaten receipts, canceled checks, and dusty family documents. Occasionally (too occasionally!), I run across something really enjoyable. Below are the objects I found wrapped in brittle old tissue, tied up with a short piece of twine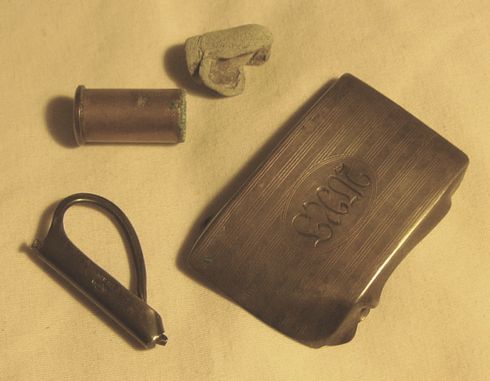 Neatly folded and snuggled into the back of the buckle was a yellowed news clipping, dated in pencil 1932:
quote:

---

BUCKLE BEATS BULLET
Company officer has Narrow Escape When Porter Fires at Another
One hundred young women were thrown into a panic today when one office porter opened fire on another in the offices of the Wholesale Foods Corporation at 315 Grand Avenue. Sam Brown, boss of the porters at the place reproached Moses Williams for slow work. Williams immediately pulled a pistol and fired two shots. He missed Brown, but the bullets found company treasurer William Thele, one tearing through his jacket and the other flattening out on his silver belt buckle. He was uninjured, but well bruised. The porter was arrested a short time later.

---
Taped to the back of the clipping was a cutting from the company newsletter
Great Rome was saved by a Rooster's crow,
Holland by the little boy's finger in the dike,
So little things count for much we know,
And we value them, too, but not just like
That wee silver buckle of mine.
The nabob may value his jewels and gold,
And the soldier his plume and his sword,
But no money can buy it, it will never be sold,
Of my trinkets and prizes highest place I accord,
That wee silver buckle of mine.
Beneath my clothes, unseen and hid,
And there its duty doing,
When occasion calls, it rose and did,
And crowned with dents, my heart now is wooing,
That wee silver buckle of mine.
William Robert Thele was my grandfather and went on to be one of the co-founders and CFO of the company that is now known as SaraLee.
IP: Logged
swarter
Moderator

Posts: 2920
Registered: May 2003

posted 04-07-2009 01:19 PM



---
quote:

---

Occasionally (too occasionally!), I run across something really enjoyable.

---
Wow! Enjoyable? More like sobering, especially if this had happened before your mother had been the proverbial gleam in Grandpa's eye!

IP: Logged
wev
Moderator

Posts: 4084
Registered: Apr 99

posted 04-07-2009 06:07 PM



---
Well, she was 16 when it happened, but the point is taken -- a 1/4 inch to the left and it would have been a very different headline.

Thank you, Bascall; she was quite a character.

IP: Logged