posted 04-15-2009 12:11 PM



---
[20-0108]

We all like a good story. And what I like is to re-invent the story behind an item. I don't mean making a story, but to recover the story - get the facts that has been forgotten. Sometimes the story dates back in time hundreds of years. Sometimes it is recently forgotten stories. So it is in this case.

This is not silver but it caught my attention.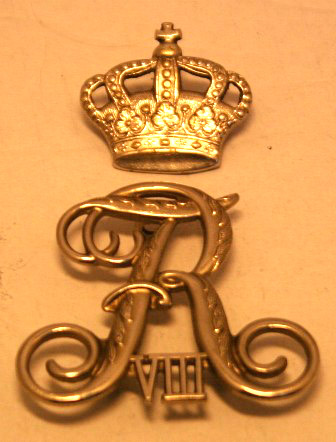 It was at a visit at a secondhand shop. They had some artifacts from the Royal Guard - in Denmark. When a man has been the Royal Guard for his military service - often his son will be there too. The picture shows the royal monogram from a king Frederik VIII - king between 1906 and 1912. Before the hero in my story. Most likely the pieces belonged to our heroes father. And now it starts getting sad. Nobody wanted these things so they went to the second hand shop. Sad that no family to have the things and to remember.
The next item to catch my attention was this.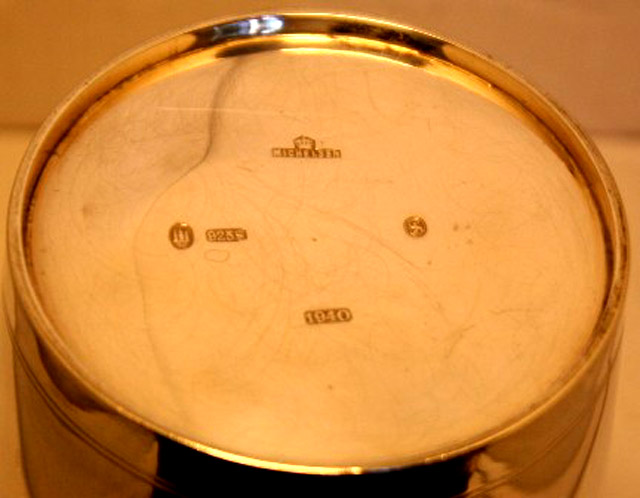 Sterling silver 925 - from the Royal silversmith Michelsen - 3 towers over 40 for Copenhagen 1940 - 1940 for Micheelsen year mark - last mark guardian.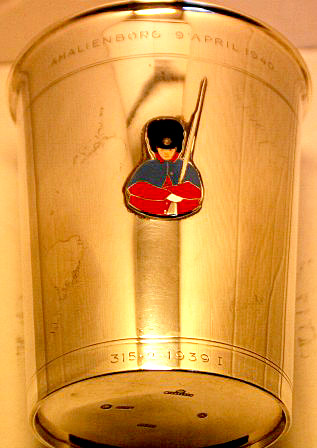 14cm high.



Amalienborg is the Royal castle and April 9th 1940 is not any day. That is the day that the Nazi regime occupied the kingdom of Denmark. Now I started smelling a good item - a museums piece. i do know my history - now I had to get details regarding this (ugly) silver piece - It is ugly I think but the story is good.
The story is - when the Nazi occupied Denmark armed battle took place at a number of locations. Among the was Amalienborg. 3 danish soldier was wounded fortunate not killed. When they came from hospital each of the 3 men was given 3 pieces of silver. 1. box for matches 1. cup from the king and 1 beaker from the Royal Guards association.
I have the last one.
3 sets exists - one of the soldiers gave his set to the museum of the Royal Guards. Where set no 2 is I don't know, but I have one third of the set no 3.
Guard J.C.C.Bertelsen no. 315 from May 1939 is the one that I have a piece from. And now the sadness of the story - shame that this man died and no one to bring his reward for future generations. Sad that no one kept the story to tell. He risked his life in 1940 to protect the danish way of life. In 2005 nobody remembered.
But I found the story and keep record so that the story will not be forgotten.
The letter from a Major in the Royal danish guards confirming and telling the story.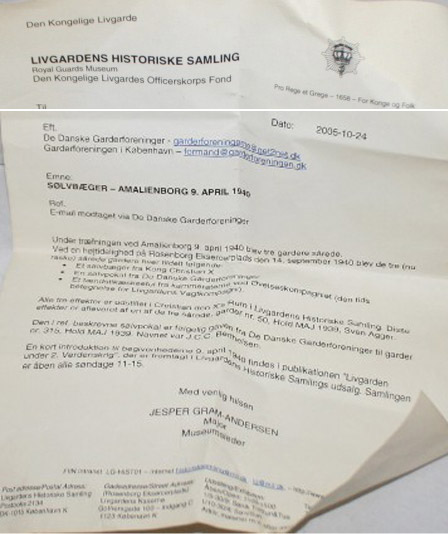 Now this was a true story - the good stories are out there you just have to find them.
Anyone fancy another story?
IP: Logged