posted 04-16-2009 01:20 PM



---
We know that only few people lived there - and even fewer people could afford silver. We know that the set was at least 5 spoons, but normally they came in portions of 2, 4, 6, 8 or 12. So assuming 6 is very likely.

6 would represent a large investment/sawing. Who could buy. We turn to reading old archives. Another internet friend found the local nobility. Jørgen Scheel 74 years of age married, husband, mayor, local authority and merchant.

He was the kings representative. In 1766 he buys Tvedegard ( a manor/ administrative estate) he is the kings representative. (Gift Hosbonde Byefoged, Byskriver og Kiøbmand)
He could be our man - in that case T stands for the estate Tvedegaard.
He marries and his wife Catharina Staal comes from a family that is rich. Very very rich.

Jørgen Scheel could be our man in another way. When going through church archives we find the priest. A priest could have silver spoons. His marriage in 1760 is confirmed by Jørgen Scheel and amazing also his wife.
2 people should bear witness - but Jørgen Scheel as kings representative is sufficient. You dont need 2 then.
A woman's signature has no value - so why hers? being the leading lady of the entire Island and wife of kings representative bear witness - this is a great honor.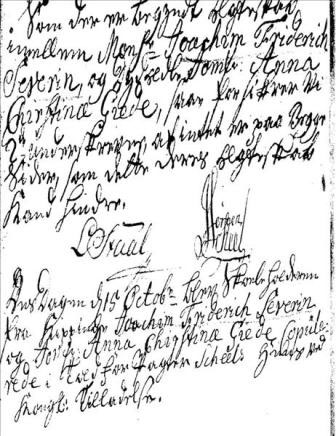 Copy of original marriage certificate from church books. Witness the nobility of the Island.
Now the spoons could be a wedding gifth from Jørgen Scheel and Catharina Staal. The priests name is Joachim Frederich Severin - the initials of spoon is JFS.
Or Jørgen Scheel made this gesture to give priest spoon with his initials Jørgen Scheel to Tvedegaard - and made initials so they could mean Joachim Frederich Severin - both donator and owner.
At that time one often gave presents with inscription "In remembering of XXXX"
We don't know - in any case the persons involved can be someone else. But they fit. And should I one day sell - I will use words as properly, most likely, cannot be proved against etc...
This is the story - guessing or I found the story - don't know. But it could be.
We don't really care - but stories like this makes fine dinner conversation. They bring silver to life...
IP: Logged