posted 04-18-2009 03:31 PM



---
The tumlinge are 6 cm in diameter and 3,5 cm high. Weight is 14 gram each. 28 gram in total.

The 2 tumlinge is made so that one fifth into the other. Decoration is almost same.
The 2 have different marks, one contain master + silver + city the other has master + silver + year. When we evaluate the 2 under one they are fully marked. But each is insufficient marked.

Master is Johan Jacob Ulfsberg 1793-1824
City is Nyköping
Year is N3 for 1818.

Now why have he not given both tumlinge 4 marks? The engraving is worn out so I have tried to make a drawing.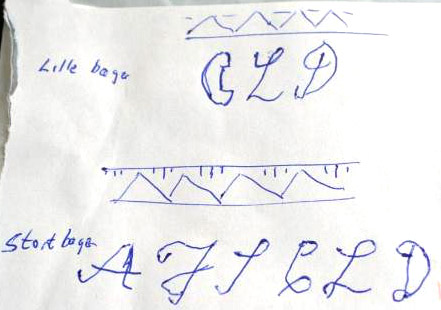 My guess is that it i wedding cups D=datter (daughter) S=son
In the silversmiths mind a couple marrying should together form a unit - not each person but a pair.
I think that in his mind "one fifth into the other" and
"one don't have fully marks - both to crate a full marking"
Is those symbolic gestures are right - or am i guessing again?
I have not yet found the couple that was married in 1818 - but one day....
IP: Logged