posted 12-24-2009 11:18 AM



---
About 25 years ago I found myself changing from a more or less normal person who bought the occasional piece of silver because he liked it and had a use for it. I was becoming a collector and beginning to specialize in pre-Victorian flatware.

I started to haunt local antiques fairs. At one of these fairs, as I was chatting to an elderly couple who were part-time dealers, they were approached by a young boy and his mother. The boy had found an old spoon in the garden.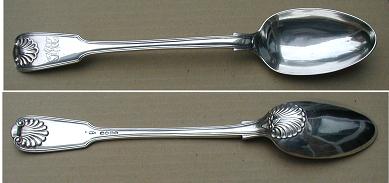 A Fiddle, Thread and Shell basting spoon, a fraction under 12 inches long (30.4 cm.) and weighing around 4 ounces (120 grams). Marked for William Chawner, London 1831.

Goodness knows how a spoon that size came to be lost in the garden. An over-convivial and careless picnic party? The loot of a thief, hidden and not recovered? Or had a child of an earlier generation "borrowed" it to do a bit of gardening and then abandoned the poor thing?
Anyhow, the dealers bought the spoon at a price acceptable to both parties but probably not far off scrap value. They kept it because it matched the flatware they used at home so I was unable to take it off them, much as I would have liked to.
Shortly after that, at another local fair, the same dealers had a spoon of an age not normally found at such small fairs.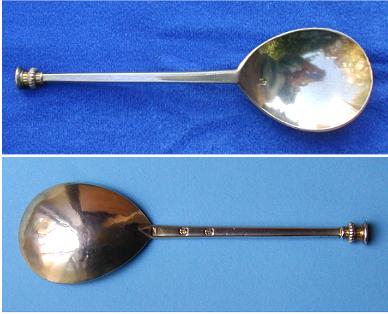 A Queen Elizabeth I provincial seal top spoon of c. 1585 in good condition, maker's mark G over IV (at the time unattributed) struck in the bowl and twice on the stem.
I really coveted that spoon but it was a good deal more expensive as well as a good deal older than any I had bought before. Conscious of my responsibilities for a wife, three children and a mortgage, I walked sadly away. However, I did not neglect to let my wife know how much I had wanted the spoon but how righteous I had been in not squandering money on it.
A couple of years later we celebrated our silver wedding and I received a surprise present from my wife: that very spoon! On hearing my story she had contacted the dealers, bought the spoon and sworn them to secrecy. Kind as this deed was, she may now regret her generosity because the spoon was the start of a slippery slope. I have grown increasingly keen on early, and therefore expensive, spoons.

A bonus as far as this spoon is concerned came when Tim Kent, an authority on English silver, was able to attribute its marks to John Gladstone and John Utting of Lichfield on the basis of marks on church plate in that area.
To round off the tale but on a sadder note, when the dealer's wife died and he was "downsizing", he remembered my interest at the time he bought the basting spoon and offered it to me. It too now has a special place in my collection as a memento of dealers who were also friends and who were in many ways responsible for awakening my interest in silver.
IP: Logged