Scott Martin
Forum Master

Posts: 11202
Registered: Apr 93

posted 01-12-2012 01:28 PM



---
The Progress
June 19, 1897
Page 13
quote:

---

TO RAISE A HOODOO.

Two Texas Girls Present Captain Glass with a Rabbit's Foot.

Admiral Bunce and the officers of the north Atlantic squadron have reason to believe that the hoodoo will be removed from the unfortunate battleship Texas. They base their belief upon a report made by Captain Henry Glass of a presentation made to the ship just be fore it sailed from the Brooklyn navy yard for Galveston.

It seems that two young women from Austin, the Texan capital, were stopping in New York. They were proud of their state and felt deeply the disgrace it which the hoodooed battleship was bringing upon it. One of them a brilliant idea. The other approved of it. So these two young women went to a Union square silversmith, where they had a rabbit's foot handsomely mounted in solid silver. The single word "Texas" was engraved upon the metal.

This rabbit's foot was put into a box and sent over to the Brooklyn navy yard, where it was delivered to Captain Glass. Inclosed was a card, which read like this:

To Captain Glass of the United States battleship Texas, with the best wishes of two Texas girls who are stopping in New York. Hoping that the hoodoo may be removed from OUR ship.

The Texas sailed away the next day, and Captain Glass has not been able to learn the names of the two girls who are so proud of the name of their native state.

---
I wonder if it helped?

IP: Logged
wev
Moderator

Posts: 4046
Registered: Apr 99

posted 01-12-2012 03:57 PM



---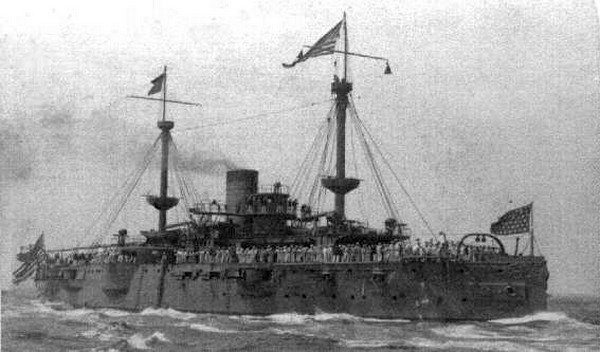 The first Battleship Texas was christened on August 15, 1895, becoming the first American steel-hulled battleship. The 309-foot vessel was soon called into action. It was used to bring home the bodies of those that died in the sinking of the USS Maine in Havana harbor on February 15, 1898. In the Spanish-American War that followed, the Texas participated in the defeat of a Spanish squadron during the Battle of Santiago, fought July 3, 1898.
After the war, the Texas served in various peacetime activities until 1911. At that time, its name was changed to the USS San Marcos so that the name Texas could be reassigned to a new, more modern battleship. After being brought in and out of service for several years, the Texas became a gunnery target for newer ships in the U. S. Navy. She now lies at the bottom of the Chesapeake Bay, about seven miles southeast of Tangier Island.
IP: Logged