posted 03-01-2001 10:27 AM



---
Hello Paul S,

Thank you for your information. Here are some pictures, though, which illustrate the problems.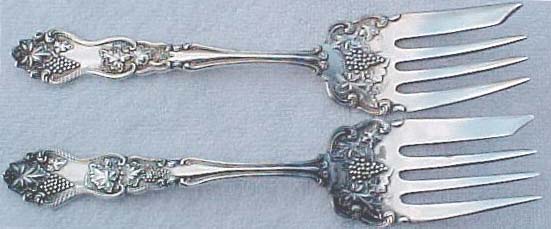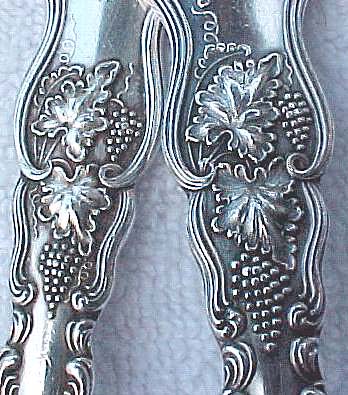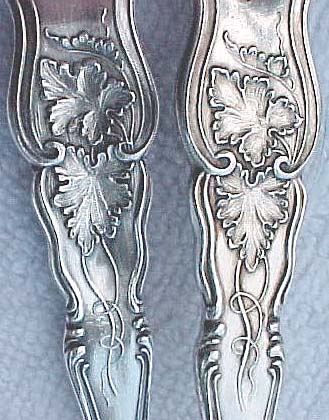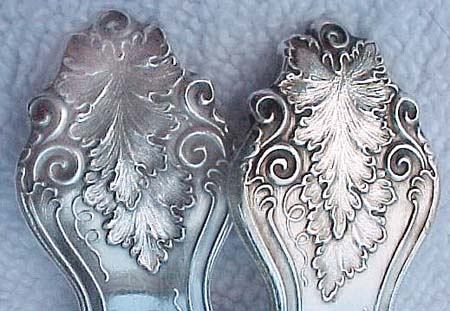 In the top picture, you can see that there are two seemingly identical cold meat forks. The upper one is the one I am certain is genuine. The other is the problem piece. There is a difference in color, with the genuine piece being very slightly golden and the other more a steely color. Weight and length are identical.
Picture two shows the grapes and foliage in the middle of the handle front. Note the subtle differences in the size and placement of the grape bunches (Genuine left, Problem right).
Picture three shows the middle of the handle on the back. (Problem left, Genuine right). Note how the vine tendrils and the tip of the lower leaf differ in placement.
Picture four shows the back of the handle tip (Problem left, Genuine right). The size of the leaves is different, as is the leaf placement.
If you look at these pictures carefully, you can clearly see that there two pieces could not have come from the exact same die. The detail is equally crisp in both pieces, so I don't think we are looking at a buffed and replated piece.
Both pieces have the same American Silver Company "Globe" mark and Patent information. I have noticed that all genuine pieces of Moselle seem to have a small impressed "6" just below the globe mark. My problem piece does not have this "6".
Please feel free to share these pictures with your dealer friend; I would love to get to the bottom of this. Just so you know, I paid very little for the problem piece, and the dealer seemd unaware of the significance of the pattern. So, if it was intended to deceive it didn't result in much profit!
Thank you!
Brent
[This message has been edited by Brent (edited 03-01-2001).]
IP: Logged