posted 02-18-2003 04:59 PM



---
I have recently acquired these 9 1/2" tongs that I assume to be silver plated sandwich tongs.

What I cannot get any information on is the maker. The name of the maker "Gulden" brings to mind Austria, but I've had no luck searching for the maker in any way...

The tongs have a shell on one side and a flat paddle on the other side and it is spring loaded. There are no other patterns or decorations.

It is marked in three rows - with the top row containing a three point crown with "g" inside (for Gulden?), an oval with 2.3.4 inside, and a square with 6g inside (silver amt.?)

Under that row is printed GULDEN and below that BREVETS INTERNATIONAL (International patent.)

Does anyone know where I can find information on this manufacturer. I plan to just use these tongs at home but would like to know a bit about their origin. Merci!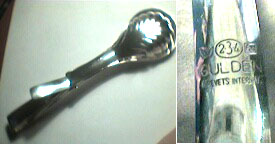 IP: Logged