stevensr
Posts: 1
Registered: Jun 2005

posted 06-25-2005 06:03 PM



---
[26-0509]

Hello, I've just got the silver bug and purchased what I think is a rather pretty EPNS silver teapot, with milk and sugar bowls. I initially thought that the handles and lid top were made of Bakelite. However, on closer inspection I can see grain and am now sure they are Ebony.

The stamps, in case you can't see the photos, are
A shield with EPNS stamped one character at a time in the corners of the shield.

Makers mark?- B.BROs (with the s underlined).

Pseudo mark? - A shield with "3" stamped in the top left corner, three chevrons pointing down in the bottom left, what looks like the letters "DES" in the bottom right and the top right blank. The numbers 5453 are also stamped underneath the marks assume that this might be the model number.
I would love to know where the teapot was make, who the maker(s) was and when it might have been made? I've spent a number of hours online and I can't find a teapot like it or anything about the maker's mark. Could B.BROs stand for Barker Bros or Brown Bros? This has got my interest tweaked.

I would really appreciate it if someone could shed some more light on it. Thanks for your time and help.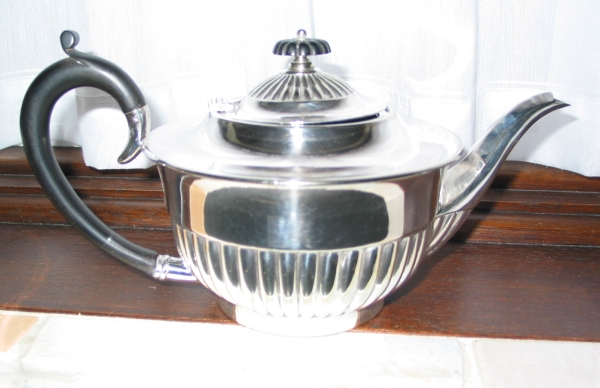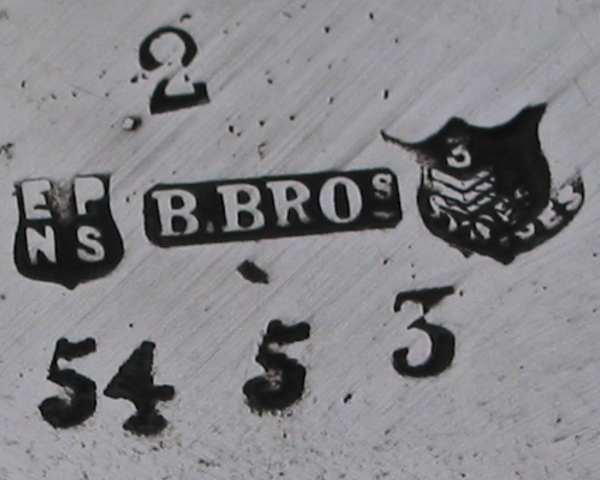 IP: Logged