posted 07-21-2005 02:41 AM



---
Here is another one that I am having trouble getting info on.

A short family story behind it: Given to my dad by a small local hotel in town sometime in the 1950's or maybe 60's is a beautiful Sheffield Spirit Kettle. He had admired it for some time after he first noticed it on the formal set table of a VIP guest of the hotel. The manager of the hotel called him when the hotel was closing down and asked if he still wanted the pot. Of course he said yes.

It took me some time to identify it as a now rarely used item called a Spirit Kettle. Set on a stand that allowed it to be tipped to dispense the liquid kept hot by the burner that sits under the stand. The handle and lid fennel? have pieces of what appears to be ivory on them.

The kettle is marked with:
RR (back to back in enclosed design?)
RR S and RR (back to back)
SHEFFIED
EPBM
01999

Have been able to ID the EPBM mark explaining that it is Electro Plated Britannia Metal - a silver-like alloy. I thought it would be simple to ID period on this one, but to no avail. Can someone help me with the other markings on this piece?? Could this have been used only as a specialty item used in hotels??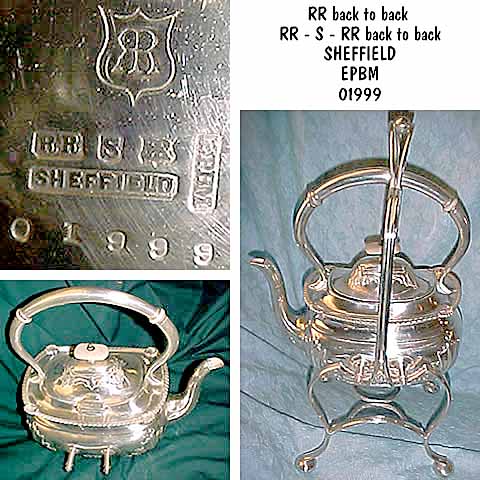 IP: Logged