Scott Martin
Forum Master

Posts: 11377
Registered: Apr 93

posted 09-01-2011 01:48 PM



---
The jewelers' circular and horological review, Volume 37
August 10, 1898
page 33
Trade Gossip
quote:

---

The "1000," the new toilet ware pattern produced by R. Wallace & Sons Mfg. Co., Wallingford, Conn., is now ready for delivery. The pattern is a magnificent creation in its class of silver ware, rich and ornate, yet chaste and refined. It can best be described as a combination of floral and rococo decorative elements. The "1000" is made in a complete set of 40 pieces, including brushes, mirrors and manicure articles. Jewelers are advised to send for a price list.

---
Anyone have any examples?
IP: Logged
wev
Moderator

Posts: 4095
Registered: Apr 99

posted 09-01-2011 06:08 PM



---
Here is the patent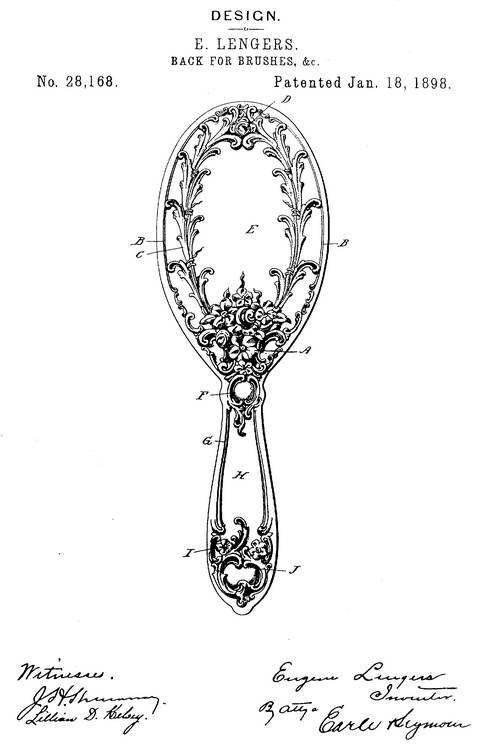 Eugene Lengers, Of Wallingford, Connecticut, Assignor To The R. Wallace & Sons Manufacturing Company, Of Same Place.
Design For A Back For Brushes, &c.
Specification forming part of Design No. 28,168, dated January 18, 1898.
Application filed November 15, 1897, Serial No. 658,643. Term of patent 7 years.
To all whom it may concern:
Be it known that I, Eugene Lengers, of Wallingford, in the county of New Haven and State of Connecticut, have invented a new Design for the Backs of Brushes, Mirrors, &c.; and I do hereby declare the following, when taken in connection with the accompanying drawing and the letters of reference marked thereon, to be a full, clear, and exact description of the same, and which said drawing constitutes part of this specification, and represents a face view of a brush or mirror back embodying my design.
This invention relates to a design for the ornamentation of the backs of brushes, mirrors, and similar articles; and the design consists in the configuration and ornamentation of the handle, as hereinafter described, and shown in the accompanying illustration.
As herein shown, the design consists of an oval back and elongated handle. At the lower end the back is ornamented by a floriated cluster A. The outer edge of the back is bordered by long narrow scrolls B, which follow the outline of the handle. Within this are two reversely-curved foliated scrolls C, springing from the cluster A and meeting at the upper end of the back, where they are connected by a foliation D. The panel E, inclosed by the scrolls C, is raised. The upper end of the handle is ornamented by a scroll ornamentation F, forming a continuation of the lower end of the cluster A, and by reversely-curved scrolls G, extending downward from the scroll F and inclosing a raised panel H, the lower end of which is ornamented by scrolls I and convolutions J, all as shown in the accompanying illustration.
I claim—
The design for a back for brushes, mirrors, &c, as herein shown and described.
In testimony whereof I have signed this specification in the presence of two subscribing witnesses.
Eugene Lengers.
Witnesses:
Charles E. Allen,
Henry L. Wallace.
IP: Logged