Jessebelle
unregistered

posted 07-29-2003 04:37 PM


---
[01-1178]

I just purchased a Meriden Tea Set at auction. This was an "impulse" purchase and have yet to receive the set.

Some questions....

First of all, it is a four piece, art deco-ish looking set.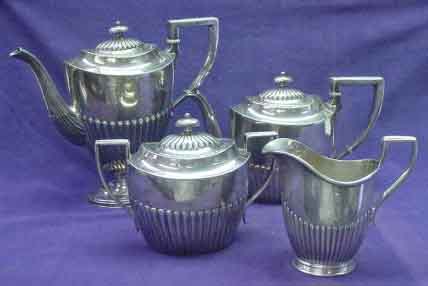 According to the sellers description the 3 pieces are marked:"Made and guaranteed by the Meriden B. Company, Rogers Bros. 2072 U.S.A."
The mark looks like the scales of justice.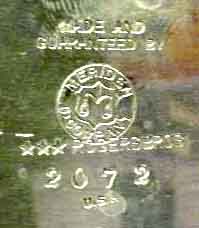 The remaining piece (which is the creamer) is marked Tiffany & co. 110 makers 7774 silver plated.




The set is in good condition and is quite attractive. The "Tiffany" mark was the deciding factor in my purchase.
Is this a Tiffany's set manufactured by Meriden?
If anybody has some info. on my set, I would appreciate it!!!
IP: Logged
Anuh
Posts: 190
Registered: Jan 2003

posted 07-30-2003 12:23 PM



---
If you look with clear eyes at the pictures, the design of the cream pitcher (creamers, I keep getting reminded, don't have handles!)

, the design is slightly different. While the cream pitcher fits in nicely with the set, the bars or flutes dip down on the sides.

Also the tops on the others are different, and not just because they have lids. The folded over top indicates a different design as well.

This is a married set that someone put together. They were lucky enough to find a cream pitcher that fit the set well enough to pass, but no, Tiffany did not have Meriden Brittania Co. make the rest of the set. If they had, it would be so marked.

Just an aside, I recommend that you never purchase things like this from dealers who make a No Returns policy. This silverplate has not been cleaned, according to the ad, and there is no way for you to know if the plate is worn past redemption. You may have gotten a real bargain on the set, particularly considering the Tiffany cream pitcher. I hope you did!

------------------
Anuh

IP: Logged
Kimo
Posts: 1597
Registered: Mar 2003

posted 08-04-2003 01:21 PM



---
A couple of other not quite conforming design points on the cream pitcher are the base which is quite a different style from the treatment on the other pieces and the flutes are too narrow and there are too many of them.

Most people wouldn't notice these things though and overall the assemblage has a pleasing appearance.

IP: Logged
Anuh
Posts: 190
Registered: Jan 2003

posted 08-19-2003 02:54 PM



---
You are absolutely right, Kimo, but when and if the buyer ever wants to sell the set, the fact that they are married will reduce the price significantly.

But it looks like a great set to use!


------------------
Anuh

IP: Logged