allentownboy
Posts: 67
Registered: Feb 2009

posted 12-23-2011 11:42 AM



---
I was not entirely certain where to post this, as I am uncertain of the country of origin or its metal content, so I thought it safest in the silverplate forum since I can find no identifying marks on it.

I recently purchased this Vin du Chariot, or bottle trolley and was excited to find one, as I have only ever seen one other in person in over 20 years of collecting. I thought it might be fun to share one with the members here who may never have seen one, so I posed it with a bottle, as well as some other photos to show detail.

The entire piece is covered in applied grapes and grape leaves with a body constructed entirely of wire-work. The grape finial at the end of the piece actually turns and lowers or raises the bottle for pouring hands-free. I nice touch I think...

Perhaps someone here knows more about their periods of usage and popularity. There seems to be so little information on them. I know this much: I am excited to have finally found one for my collection. I intend to proudly display it on my Christmas table this year with a most excellent bottle of wine to share with guests!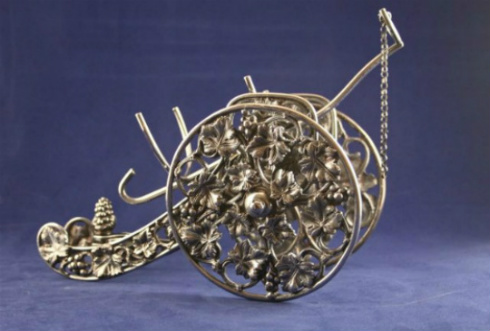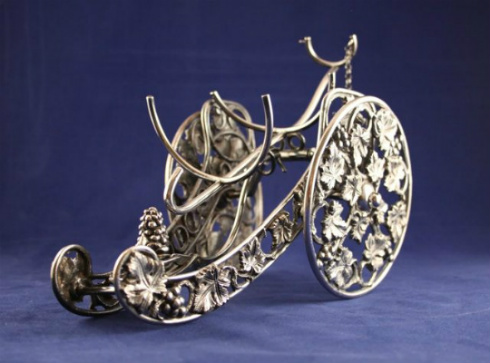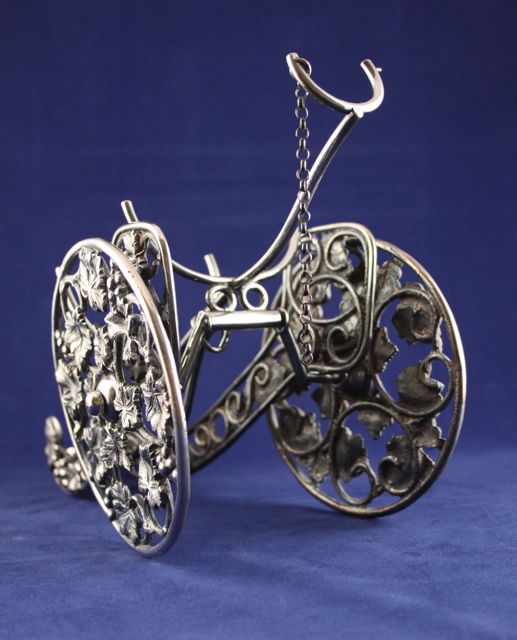 IP: Logged
allentownboy
Posts: 67
Registered: Feb 2009

posted 12-23-2011 01:43 PM



---
Interesting Vathek, I would not have thought that. England or France came to mind first, but since both countries you mention have a tradition of wine making, it would certainly be a possibility. Upon closer inspection, I see copper bleeding through in places with higher relief, so it now appears to be plated or fused like OSP.

Update: also the backs of the leaves appear "tinned".

[This message has been edited by allentownboy (edited 12-23-2011).]

IP: Logged