posted 02-25-2016 01:40 PM



---
[26-2557]

Hello -

Thank You for the add to the group. My name is Justin Lee - my wife and I are avid admirers of the Victorian Age - and always have our eyes peeled for the next great find. We have a small very eclectic collection of antiques and would truly appreciate any information on this piece that we can get.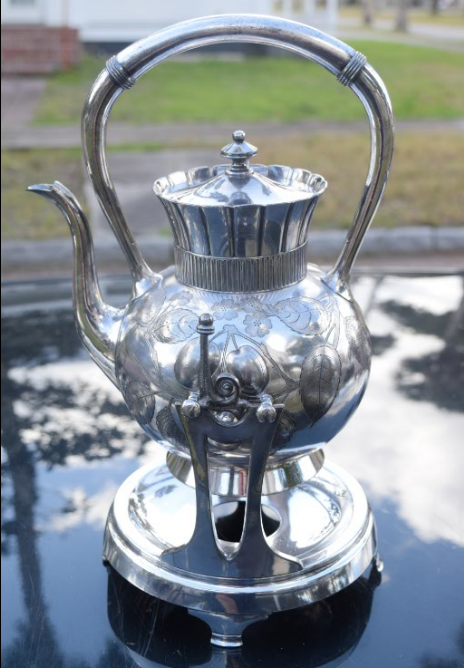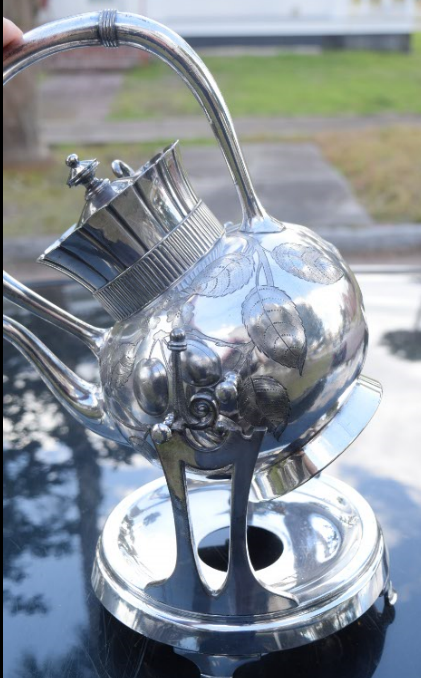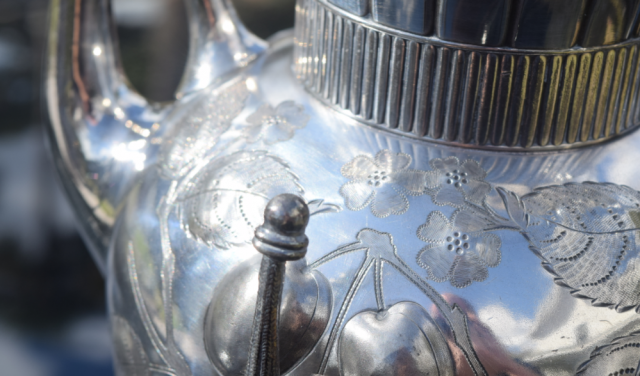 - I'm not sure if I can upload pictures or not - but I can give a description and what we know so far:
Meriden B Company Quadruple Plate (on the outline of the circle - spelled out/If I read correctly that mark ceased being used in 1896
Meriden B - started around 1852 - #1 Silver Plate Manufacturer by 1863 I believe - so as of now our date range is 1852-1896
- FYI this is the most Alice In Wonderland styled teapot from the Victorian Age I've seen. I've seen more intricate and more shapely - but I've not found a match to this yet.
Pattern 1957 Cherries and Leaves - the scroll work on this is phenomenal with even the branches being made up of small horizontal lines (around 5 I believe) that run the length of the branches. The cherries are Raised - appears to be at least half an inch (like a bubble)
Definitely not an urn, coffeepot, samovar nor thermos.
Both pieces have identical markings
If I read correctly - the silver used would have been .925 silver/standard being used at that time (and that Quadruple plate actually means 4x's the silver that would be used on a standard piece was implemented)
When I obtained this item the degree of tarnish was pretty severe. I polished as slowly and lightly as possible in fear of there not being much if any silver left from the condition the Kettle Warmer was in - and I still can't believe how well it came out. The only place there really seems to be any silver wear is on the handle - you can see your reflection in the body. It shines. The inside is in great shape. No severe pitting or holes. One small dent on the underside about the size of a dime - unnoticeable if viewed from above and unless it's pointed out hard to recognize.
If anyone can help with a date or proper name we would truly appreciate the assistance.
Thanks again for the add - and all the best - Great Site, Kudos!
IP: Logged