Mitts
Posts: 2
Registered: Jan 2017

posted 01-07-2017 02:57 PM



---
[26-2621]

Good afternoon everyone:

My name is Mitts, and I am finding silverplated items among my family's estate possessions I know nothing about. I was referred to this wonderfully set up forum to see if anyone can possibly help by a fellow [snip] Shopkeeper.

I have been searching for a few weeks since finding this basket, which I think is SILVERPLATED COPPER, but it only has a number stamped into its base. My queries ended up with some saying it was English and another, who is more insistent about its origin says it could well be Russian! I have scoured this entire piece, looked in all of the nooks and crannies, but have not discovered any makers marks or tell tale signs to follow for origin or date.

Has anyone seen anything like this basket (*I know there are many but quite different*), to my untrained eye, it is silver plate over copper....

Thank you in advance for any and all suggestions. It is greatly appreciated.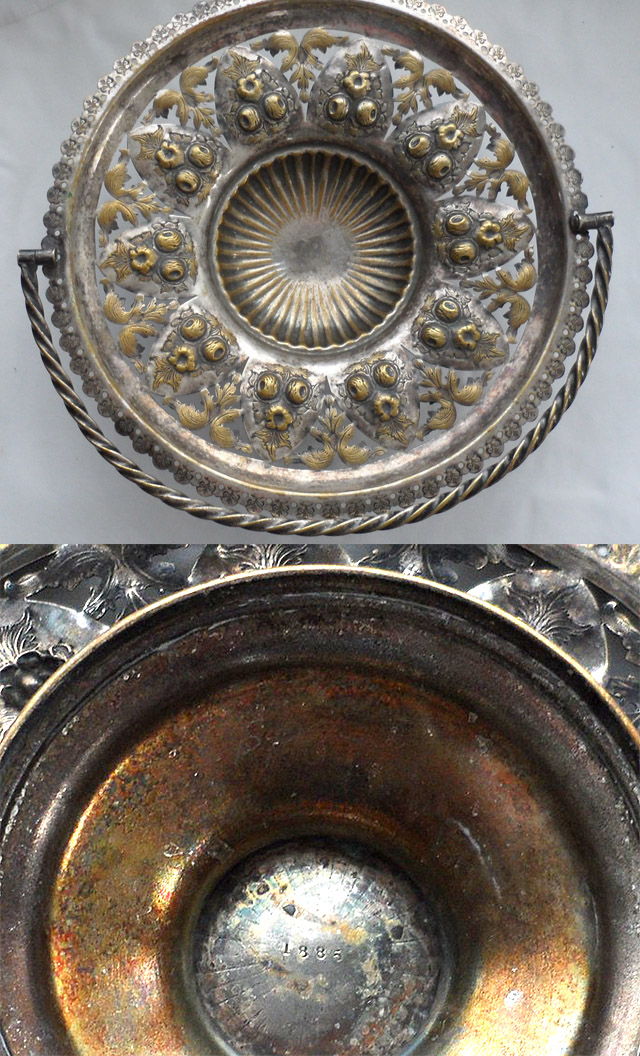 ------------------
Edwina J Mcmaster
IP: Logged
Kimo
Posts: 1627
Registered: Mar 2003

posted 01-09-2017 09:22 AM



---
It is very difficult to say much about silver plated objects since much of it tends to be unmarked and it was and still is made all over the world. Silver plate has been made in great quantities and in all different styles in every country and there has not been the level of research into it that there has been with silver objects. Unless there is something very distinctive in the design it is almost impossible to tell its country of origin.

The method of manufacture of plating silver over copper has also been used everywhere so that is not a help. This style of manufacture tends to have been used mostly in the 1800s, though even that is not definitive as it could also be 1900s.

My guess is that it is not English since many of the better English companies did apply more markings to their silver plated wares since they were using their brand name to better market their products and get higher prices. However, it could be English in that many of the lesser factories did not put much in the way of markings on their products as that would have reduced the marketability because customers preferred the big name brands.

The marking that is on yours, the number 1885 is not a hallmark or a year, but rather it is only a style number so that merchants who were buying such silver plate from that factory could order these by mentioning the style number in their order. A merchant or store could contact the factory and say "send me another 100 style 1885 bowls or send me another 100 of style 1250 plus another 100 of style 2355, and so on. Such numbers were also used by the factory that made it to keep track of how much inventory they had of each style of silver plated object they were making.

IP: Logged
Mitts
Posts: 2
Registered: Jan 2017

posted 01-09-2017 12:58 PM



---
Dear Kimo:

I thank you so very much for the time and efforts provided to me in your response. This information is what I thought, but best to check it out first, which I really did make an diligent effort.

Mitts

------------------
Edwina J Mcmaster

IP: Logged