posted 08-22-2013 09:39 AM



---
[26-2416]

Hi,

I am a total novice when it comes to silver collecting. The most experience I have comes from what seemed at the time to be endless hours of polishing my grandmothers silver. This was her version of "time out" I suppose.

I am a regular at local salvation army, goodwill, and other local thrift shops. I love finding odd or random pieces and giving them new life. I recently came across a beautiful silver tea service. It was filthy and had a couple of dents, but just too unique too pass up.

Once I got it home and cleaned up I found markings on the bottom of the pieces and wanted to try and find out a little more about it. The stamp reads, Barbour Bros Co Quadruple Plate 992.

I have found a few pieces that match it in online searches, but no complete sets. I have also found very little information on the Barbour Bros Co. I know they eventually became a part of International Silver, but no real information found on pieces before that time.

I would really just like some information on approximate age and history.

Any help would be appreciated!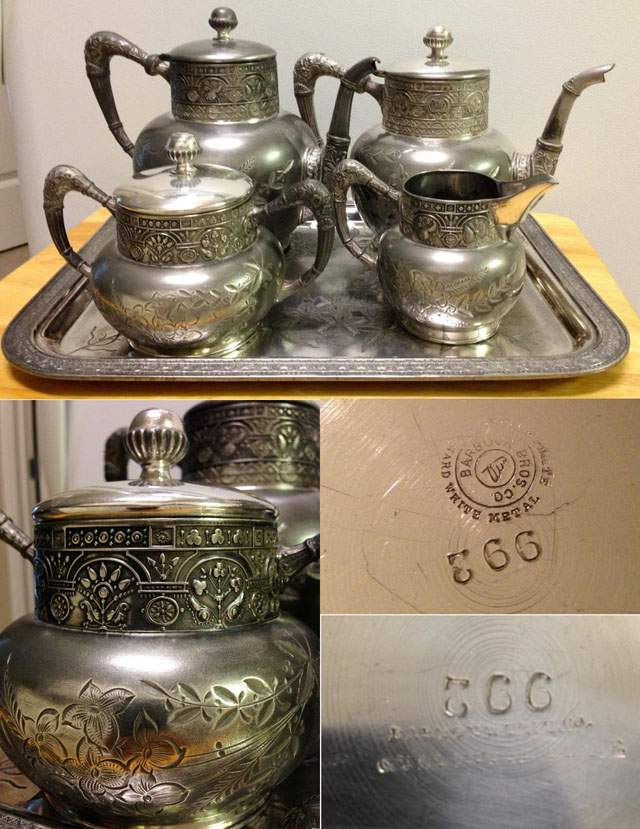 IP: Logged