ahwt
Posts: 2334
Registered: Mar 2003

posted 01-15-2019 10:31 PM



---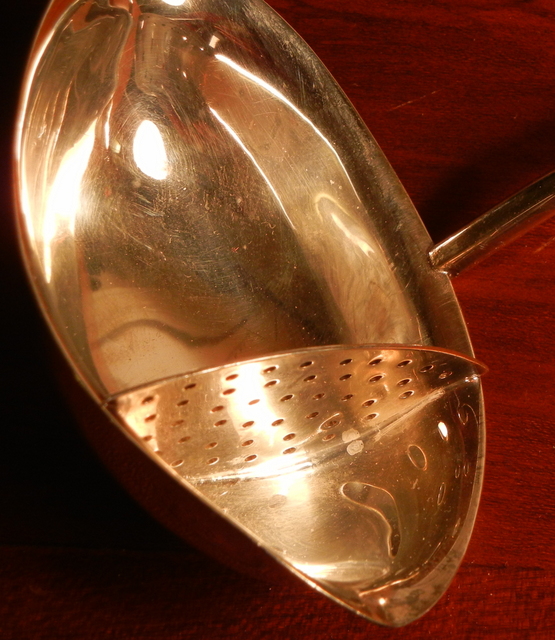 This silver plated ladle is unmarked, but we have used it for years serving Café Brûlot. Following is a good recipe and while we usually use a silver plated bowl to mix all things together one can really be creative on how to flame the mixture and what containers to use.
It is best to try it your technique multiple times before your guests come so you can do it effortlessly when the time is right. Each time you practice you must also drink the finished drink.
Yield
Makes 8 servings
Active Time
15 min
Total Time
15 min
Ingredients
1.
o 1 orange
o 12 whole cloves
o 1/3 cup brandy
o 1/3 cup Cointreau or other orange-flavored liqueur
o 3 (2-inch-long) strips of lemon zest
o 2 (3-inch) cinnamon sticks
o 1 tablespoons sugar
o 3 cups hot very strong brewed coffee (preferably chicory coffee blend or French roast)
Preparation
1.
1. Remove zest from orange in a single spiral with a sharp vegetable peeler or paring knife. Stud orange zest with cloves. Add to a wide heavy medium saucepan with brandy, liqueur, lemon zest, cinnamon, and sugar. Warm through over medium heat, stirring. Tilt pan over gas burner (or use a long match) to ignite carefully (flames will shoot up). While flames subside, slowly pour in hot coffee. Ladle into small cups (preferably demitasse).

IP: Logged