Sue M
Posts: 10
Registered: Aug 2019

posted 09-22-2019 01:22 AM



---
Can anyone identify the pattern of this William Hutton & Sons British Plate spoon? It could be a souvenir letter spoon, but because of its size (6 1/8"), I wonder if it wasn't a nice place teaspoon purchased for a presentation and the giver had it custom initialed. Any thoughts?

By the way, this was my grandmother's and she brought it with her to the US from England some time before 1920.



What about the maker and pattern name for this one? It's only 5 1/2". The "bowl" is almost flat . . . is it a bon bon spoon, do you think?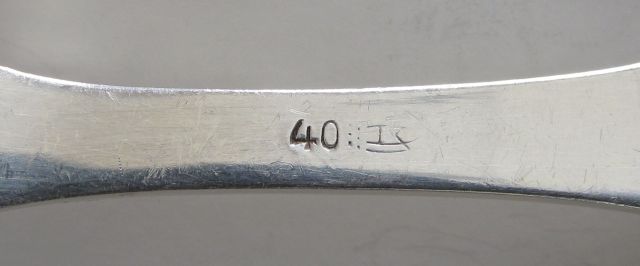 This pattern is a real stumper. I've looked at every pattern for every maker with "Rogers" in the name. At first I mistook it for the 1883 Angelo/Saratoga, but the design is subtly different from both variations of that pattern. This sugar shell is 6".




Does anyone recognize this maker's mark: A pennant with a capital "H"? It must be fairly common because I have two souvenir spoons with it.


THANK YOU!!!
IP: Logged
dragonflywink
Posts: 975
Registered: Dec 2002

posted 09-22-2019 04:03 PM



---
The Hutton piece is a jam spoon, can't help much on the pattern. The second piece is Norwegian silverplate by Th. Olsens, the pattern is 'Korall' (Coral), likely dates early to mid 20th century, and was probably intended as a petit-four server or the like. Davis & Deibel shows the double-anchor marked Rogers pattern as 'One' with no dating, Turner shows the pattern under Hall, Elton & Co. as 'Niagara', circa 1875 introduction. As already suggested, the last mark is Mechanics/Watson.

~Cheryl

[This message has been edited by dragonflywink (edited 09-22-2019).]

IP: Logged