MGArgent
Posts: 7
Registered: Mar 2020

posted 03-03-2020 06:30 PM



---
Hello Silver Salon Forums, this is my first post here, and I am looking for advice on whether to pursue restoration of what I believe to be a set of flatware for fish and/or fruit for six.

The set is hallmarked for Thomas Sansom 1846, Sheffield, and it appears the collars, knife blades and fork prongs are made entirely of sterling silver (some similar sets only have sterling collars), and weighs in at 449 g.

The main issue with this set is that the knife and forks have separated from their mother of pearl handles (due to exposure to high temperatures?).

It seems a shame to leave this beautiful set in such poor condition, but seeing as it is not likely to be used frequently, I do not want to invest a large sum in restoring this set if it would not see a corresponding increase in value.

Can anyone provide advice on the economics of restoring such a set? I don't require an exact valuation, I am looking for general advice on if the cost of restoring a set with these characteristics tends to equal or exceed any change in valuation?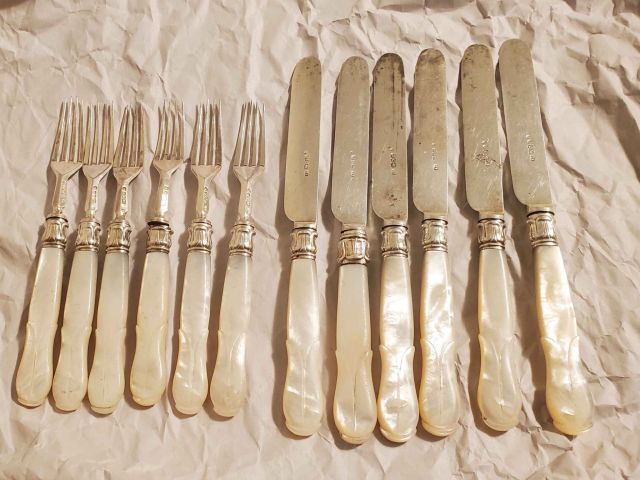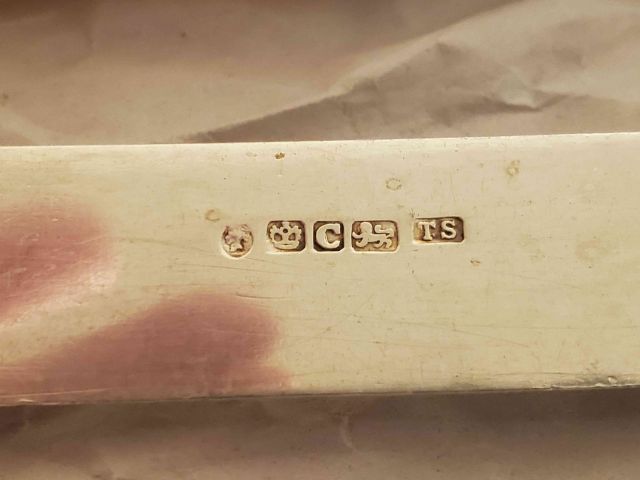 [This message has been edited by MGArgent (edited 03-03-2020).]
IP: Logged
ahwt
Posts: 2173
Registered: Mar 2003

posted 03-03-2020 11:09 PM



---
Welcome to the Forum.
I know dealers that buy forks and knives as you have, fix them and then resell them. That would indicate to me that the repair costs are not prohibitive.
I do not recall seeing these knives and forks with Sterling throughout and that would be another reason to save them.
I would suggest getting a quote from a silversmith and then using you own judgment as to what to do.

IP: Logged