posted 09-22-2021 01:54 PM



---
I wish to respond to the following question posed in the thread linked to below:
Does silver corrode?

This question by ahwt to be specific:

"Does anyone know if the oxidation of sterling can be hastened by placing the silver object in heated container; either by itself in a high oxygen environment or with some sort of catalyst?"

I am aware that Hydrogen Peroxide (the exact same stuff you can buy at the pharmacy) does react to silver. I won't pretend to know how / why, but it does have an effect on the appearance. A quick google search can fill you in on the specifics. This process happens very quickly. In the photo below I've submerged a 1oz 9999 silver round in hydrogen peroxide for approximately one hour. Almost instantly you can see tiny bubbles forming on the silver. You can see the difference from the original appearance (left). The other quarters are just there to give a sense of the difference. I believe this should also work on sterling but I have not tried.

My understanding is this reaction does produce hydrogen gas, so please make sure any silver candlesticks are extinguished first ...unless you wish to recreate a miniature version of the Hindenburg Disaster in your own home.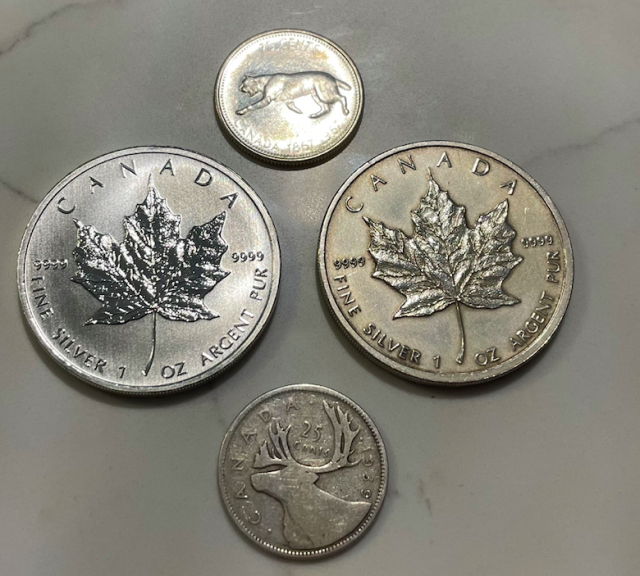 Hope this helps
[This message has been edited by Scott Martin (edited 09-22-2021).]
IP: Logged