posted 01-06-2005 10:56 PM



---
[01-2074]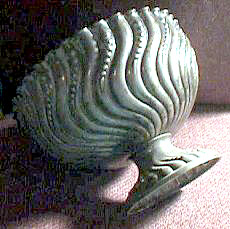 This silver bowl is about 9.5 inches wide at the top, 5 inches wide at the pedestal bottom, and about 6.5 inches tall. The markings on the bottom are very hard to read and I will attempt to describe them in order...
F. R or B or E then a superscript RS with 3 dots or small triangles underneath these two letters - This sequence is surrounded by an oval or is countersunk into an oval.
This is followed by what looks like an ampersand symbol followed by old English? or calligraphy letters 'C or E' 'B'
Underneath this is a stamped date?
8 ] 6 6 (The *]* is what it looks like, it's not the number one.
Any help will be appreciated,
Thank you!
IP: Logged