rbarnwood
Posts: 7
Registered: Feb 2005

posted 02-26-2005 11:10 AM



---
would like to buy a silver plated meat dome of a medium to large size, something like 24 inches by 14 inches or larger. Can be in most any condition (quality of plate) as I have good person to replate.

IP: Logged
IJP
Posts: 326
Registered: Oct 2004

posted 03-11-2005 01:18 PM



---
Joseph Angell, London c. 1820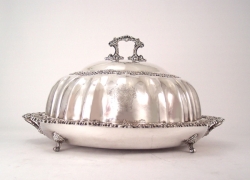 The base and cover are Sheffield plate, but the well-and-tree platter is sterling and bears the appropriate English hallmarks. The sterling platter has an elaborate Rococo style border of flowers and C-scrolls.
Portions of this ornamentation reoccur elsewhere on the object. This piece has several engraved emblems which I have tentatively identified as crests of and related to the English Order of the Bath (among the highest orders of English chivalry).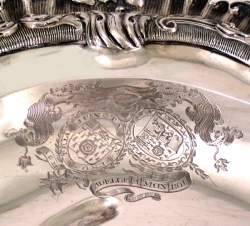 The entire object is in very fair shape for its age, as is evident from the photographs. It's price is $ 16,500.
The above item has been sold
IP: Logged