Jonahs Whale
Posts: 2
Registered: Dec 2000

posted 12-22-2000 11:43 PM



---
Instead of eBay, I am posting this here because I want a buyer who will be able to appreciate this beautiful cup and all of its issues.

This cup clearly started life as a plain cup. Sometime after it was made and hallmarked, the design was beautifully engraved and it was presented to J. Grafton Broomfield. Then, presumably, sometime after J. Grafton Broomfield died, it was (a bit crudely) made it into a creamer/syrup cup. The cup is very solid such that the dings and dents (see photo) should/could be easily fixed but I am not so sure what could be done to remove the pouring lip. E C / P is the maker's mark. The hallmark is London 1875. The diameter is 2.25 inches (3.5" across with the handle), 3.0" tall and weights 4.0 oz. (3.66 troy oz.).

I will accept the best $$ offer between now and Jan 5, 2001. Please e-mail your best $$ offer to jonahs_whale@yahoo.com . Shipping is additional.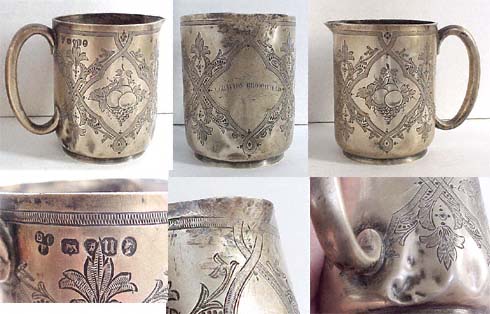 IP: Logged
Scott Martin
Forum Master

Posts: 10873
Registered: Apr 93

posted 12-23-2000 09:08 AM



---
I know this seller but am sure that most of you don't know him.
I also know that I would not buy from someone that I don't know on the Internet.
Maybe this will be of some assistance . . . I have volunteered to be the middle man.
I had Jonah leave the cup with me and I will act as agent (collect $ / ship cup) for the transaction. You will still need to send your offer to Jonahs_whale@yahoo.com

Jonah - Please post an acknowledgment of the above.

IP: Logged