wfenwick
Posts: 2
Registered: Apr 2004

posted 04-05-2004 04:08 PM



---
I'm trying to find more info on this silver notepad holder I inherited.

I've tried identifying the markings on the internet, but to no avail. Finally I stumbled upon this forum, and figured I would give it a go.

Here's the object in question: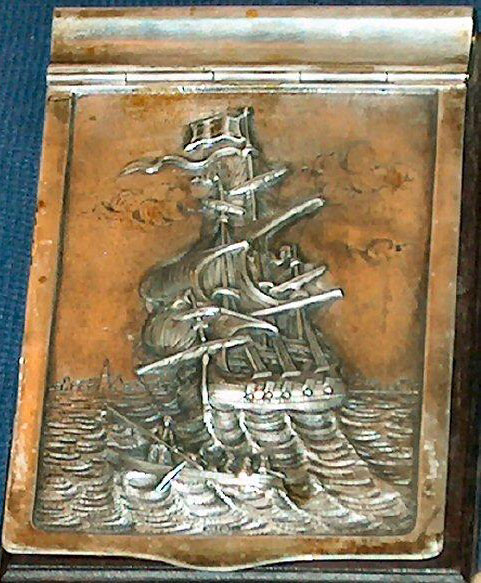 And a closeup of the markings on the bottom face: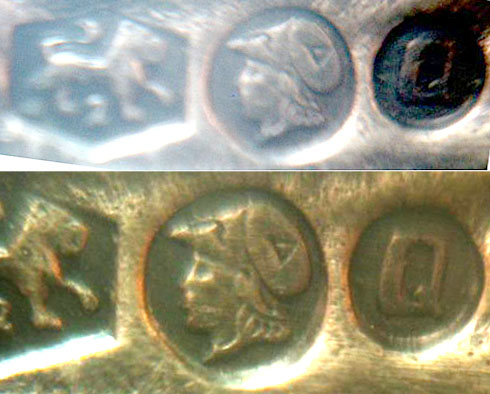 thanks for the help!
IP: Logged
Patrick Vyvyan
Posts: 640
Registered: May 2003

posted 04-05-2004 07:07 PM



---
Your notepad holder is from Holland.

The lion stamp means it is guaranteed to be at least 83.3% silver (or .833), lower than sterling. The number in this mark changed from 2 to a Roman II in 1953, so your piece is earlier.

The head is Minerva, and I believe the symbol on the hat represents the assay office - but which one I'm not certain, there have been 19.

The last mark, the letter Q, is the year. Different styles of letter were used for each cycle. Your piece may be 1926.

Often there is another mark. If so, this will be the initials or symbol of the maker.

IP: Logged
wfenwick
Posts: 2
Registered: Apr 2004

posted 04-06-2004 01:12 AM



---
Yes, there is another stamp, off to the left of the 3 stamps at the bottom. It's HH. Couldn't get a clear enough picture of it worth posting though.

Thank you very much for your help identifying this piece. I greatly appreciate it.

IP: Logged