mdhavey
Posts: 164
Registered: Dec 2003

posted 01-02-2005 07:26 PM



---
[07-0171]

I notice there is no Russian forum per se, but every once in a while questions and answers on Russian marks show up here. So, here's two marks needing help. At least I think they're Russian as I think the 84 mark indicates Czarist Russia (but I'm no expert on this, sorry for any faux pas). The first is from a small plate or saucer and the second from a Kiddish cup.

Any help would be greatly appreciated!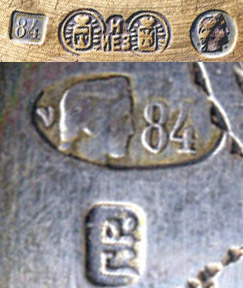 Sorry about the confusion surrounding posting the pictures, I'm an idiot...
IP: Logged
tmockait
Posts: 963
Registered: Jul 2004

posted 01-02-2005 10:20 PM



---
Here's some help with the Russian hallmarks.
"84" is a Zolotnik or purity mark indicating the piece is 875 parts per 1000 silver. In 1899 the zolotnik was included with a town mark in an oval. However, Moscow used the women's head separately from 1908-26.Given the excellent condition of the mark, I am guessing that this is the date period. The second piece uses the more common punch for this period: a right facing woman's head followed by 84. There should be small letters around the head on both pieces indicating the assayer's mark, but I cannot see them from the photos.

I cannot help you with either maker's mark.

Hope this helps,
TM

IP: Logged
mdhavey
Posts: 164
Registered: Dec 2003

posted 01-02-2005 10:46 PM



---
Thanks!
On the first one, can you say anything about the large punch which is between the 84 and the right facing head--is this actually the maker's mark? The first circle seems to contain a bell under a crown, the second has an H over NE3, and the third circle is hard to make out what the symbol is under the crown. It is impossible to tell what the tiny letters are in the first woman's head, but the second one has just a small "v". Thanks for shedding light on this.

IP: Logged
tmockait
Posts: 963
Registered: Jul 2004

posted 01-02-2005 11:31 PM



---
The small "v" indicates the assay district (region in which the royal official charged with certifying the purity of the piece had authority), but I don't have a list of those districts and the Greek letter used for each.

The good news is that I found a maker's mark with the same letter configuration but different crests. The bad news is my source marks it as "unidentified." So a dead end. Remember, 1908-26 was a turbulent period in Russia. I suspect lots of silversmiths ended up in the Gulag and many records were lost.

All the best,
TM

PS Don't forget, Russian makers'letters are from the cyrillic alphabet, not the Latin one we use.

IP: Logged
blakstone
Posts: 493
Registered: Jul 2004

posted 01-02-2005 11:32 PM



---
I can add a few things to tmockait's comments. Both these marks - known as "kokoshnik" marks (after the headdress the figure is wearing) were indeed used 1908-1926 throught Soviet Russia. (An earlier,different kokoshnik mark -struck incuse and facing left - was used 1899-1907).

The two shapes - oval and circular - had two different purposes. The oval shape was the primary general purpose mark for gold & silver wares, and the assay office was indicated on it by a Greek letter behind her head: here, in the 2nd mark, nu (which looks like a "v"), the mark for the Ukrainian city of Kiev.

The circular mark was a garniture mark; i.e., a mark struck on small items and/or the auxilliary parts of an ensemble or suite. (As your mark appears on a saucer, I expect it was considered auxilliary to the cup.) Here, the assay office was indicated by a Morse-code like series of dots and dashes around the perimeter of the mark. You'll notice the two dots on either side of her neck; this arrangement, coincidentally, was also the indicator for the Kiev office in the garniture mark.

So both of your pieces are from Kiev, Ukraine, 1908-1926. As for the makers, the large center mark on the first one is the maker's mark (the center "H / IE3" transliterates to "N / IEZ"), and the two Cyrillic characters in a square on the second one is the maker's mark, transliterating to GR.

M.M. Postnika-Losseva's "Silver & Jewelry of the 15th-20th Centuries: Territories of the USSR" (the standard reference for Russian silver marks) lists both of these marks as belonging to Kiev makers, but calls them "unidentified." She lists IEZ as working 1892-after 1908, and GR as working ca.1880-after 1908. ("After 1908" is apparently code in her book for "swallowed up by the Communist collectives.")

IEZ, whoever he was, was incredibly prolific. I've seen his mark countless times, usually on little vodka beakers and/or Kiddush cups. Postnika-Losseva does note that his mark appears as a simple IEZ (IE3) in a rectangle until around 1908, when it was replaced by the fancy mark you show (which is illustrated in her book). She notes that the N (H) above the IEZ (IE3) stands for (transliterated) "nasledniki" or "successors", so apparently IEZ died around that time.

I met a nice Ukrainian couple about a year ago who were avid collectors of Russian silver, though they now live in the US and are completely fluent in English. They unhesitatingly identified "IEZ" as Igor Zavyanov, and said that he was indeed the largest pre-Soviet silver manufacturer in the Ukraine. Since then, I have tentatively accepted their attribution, particularly as neither Postnika-Losseva's book nor the Ukrainian Museum in New York (with whom I corresponded on the matter) are unable to shed any further light on the subject.

Hope this helps!

PS: After I posted this, I saw that tmockait was simultaneously providing you with some of this information; sorry for the redundancy!

[This message has been edited by blakstone (edited 01-02-2005).]

IP: Logged