Silver Lyon
Posts: 363
Registered: Oct 2004

posted 07-19-2005 06:38 PM



---
I am fascinated by the concept of silverwork from the Soviet period in Russia. Sadly, I am very much a novice in this area.

There is the lable and marks (I will show the spoon if desired) from a niello spoon.
The label is attached with string and sealing wax!

I long to know what the label says and the who what and where of the spoon!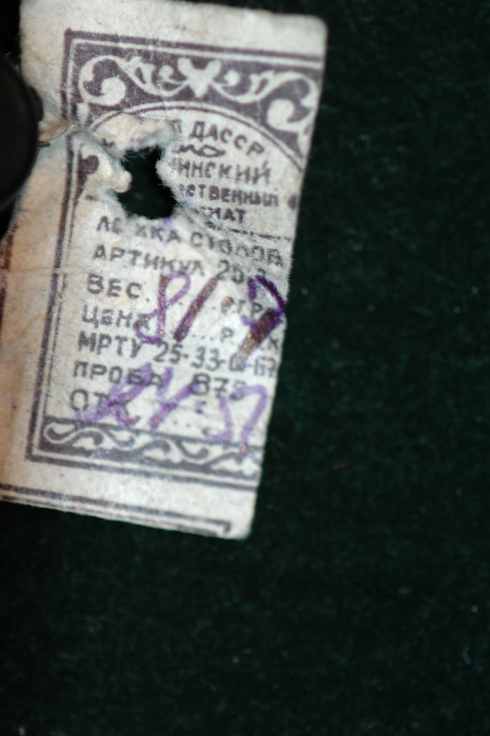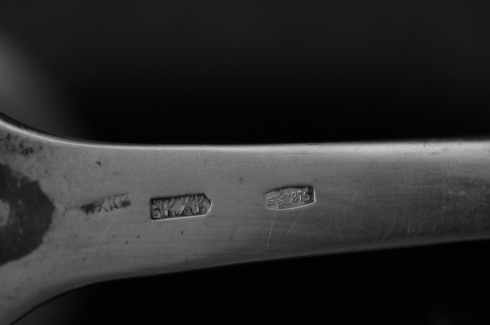 Thank you, WEV - the marks are tiny and I had real problems getting them at all!
IP: Logged
wev
Moderator

Posts: 4046
Registered: Apr 99

posted 07-19-2005 06:54 PM



---
Pardon for the redundancy, but the image was too dark too read on my monitor, so I fiddled it a bit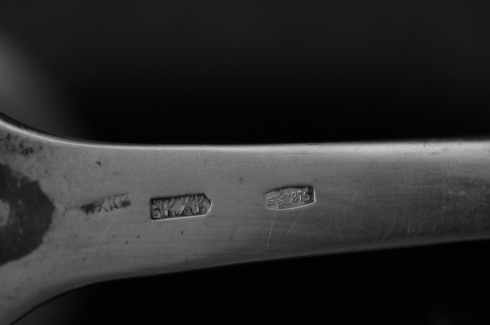 IP: Logged
sazikov2000
Posts: 254
Registered: Jan 2005

posted 07-20-2005 10:25 AM



---
To answer your questions one has to be a clairvoyant, a translater and/or a teacher in politics and Russian communistic habits. All what could be possible to say, so you can understand the marks on the spoon and the text on the slip of paper would take many hours of explaining, teaching and writing. To make a long story short:

Your spoon is from the factory (Latin):

Kubatschinskij chudojestwennyi kombinat =
Cuban artistic kombinat (an ideologic hommage to the socialistic "brothercountry" Cuba) 1961-1968. There existed 3 factorys: (Moskowskaja, Tbilisskaja, Bakinskaja)= Moscow, Baku, Tiblissi.
Your fotos are so excellent that I can not see what is most important on a foto - details.
The mark with the silvercontent 875 has a hammer and sickle in a star, in use since May 7th 1958. If there is a dot upper center left, it is Moscow. Is the dot upper center right, it is Baku. Is the dot middle right, it is Tiblissi. If there are no dots and you see left of the star the letter "M", it is Moscow.
Now to the paper slip:
the address and the code of the kombinat, the number of the articel 25??
the style
the year of manufacture 67
silvercontent (proba) 875
OTK qualitycontrol with signature etc.

Hope that helps.

Sazikov 2000

[This message has been edited by sazikov2000 (edited 07-20-2005).]

IP: Logged
Silver Lyon
Posts: 363
Registered: Oct 2004

posted 07-20-2005 03:17 PM



---
Thank you for your brilliant summary. I take it that this is Moscow? 1967.

The Cuba name is really interesting - an insight to a totally different way of thinking!

I take your reproach to heart - I am very new to this camera thing. Is this better?

Wev - if this is no good, just delete the whole thing from 'thinking!' - thanks.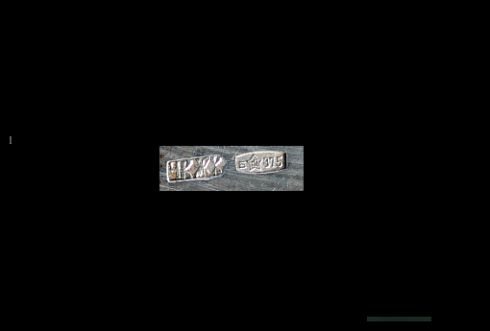 IP: Logged
sazikov2000
Posts: 254
Registered: Jan 2005

posted 07-20-2005 03:41 PM



---
I destroyed my eyes by deciphering the paper slip ( in fact it is a receipt):

DACCP (Latin) = autonom Republic of Dagestan
Gosudarstwenni kombinat (Latin) = Government factory
Town not legible (hole in the paper)
eatingspoon
weight ca. 81,7 Gramm
price
serialnumber, last three numbers date, March 1967 (3-67)
silvercontent 875

I am on the way to my optician...

Sazikov 2000

IP: Logged