Manhasset
Posts: 10
Registered: Jul 2005

posted 07-22-2005 01:52 PM



---
[26-0552]

I am very curious to know if anyone can tell me more about the Russian flatware in this photograph.

What does the word written in Niello mean? (Is it a city, or the owner's name, and how does it relate, if at all, to the initials engraved in the cartouches?)

Do you think that the one older piece was copied into a whole service at a later date?

The table fork is 7.5 inches.

Thank you!!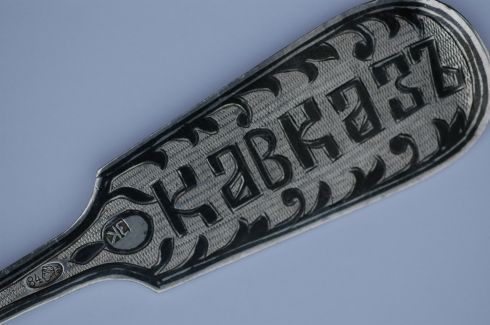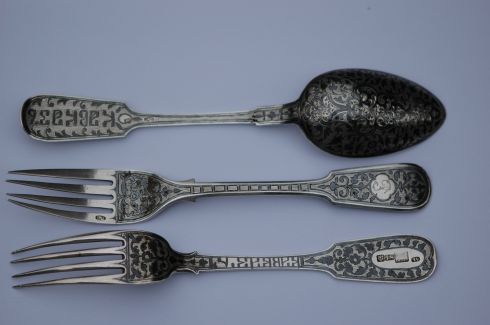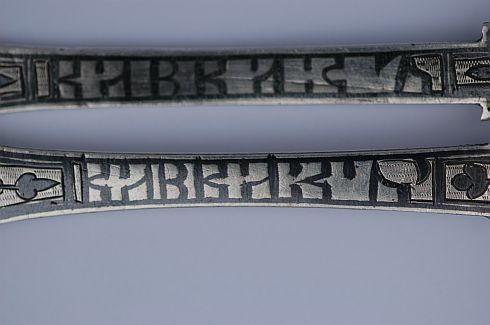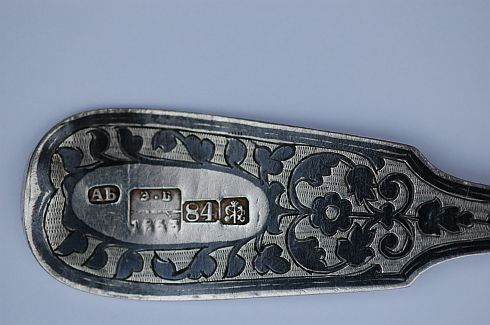 IP: Logged
Dale
Posts: 2132
Registered: Nov 2002

posted 07-22-2005 02:09 PM



---
The Russian word roughly means Caucasian, as in mountains. Don't know beyond that. It could refer to a military campaign, a home area or something else.

IP: Logged
Paul Lemieux
Posts: 1758
Registered: Apr 2000

posted 07-22-2005 04:08 PM



---
The word is Caucasus, for the region between the Black and Caspian Seas. Niello souvenirs of this area were rather popular.

IP: Logged
sazikov2000
Posts: 254
Registered: Jan 2005

posted 07-22-2005 05:57 PM



---
The word (Latin) "Kawkas" is the Russian word for Caucasus. Silver-Niello (sometimes called "Thula-silver") with the inscription "Kawkas" was made in the different states of the Caucasus region and mostly sold as souvenirs. What is a little bit strange on your pieces are the different hallmarks.

One (Latin) EK is of the famous silversmith Kollin, Erik August. Assymaster (a Woman)Fedora Konowalowa, 1896 - 1908, from the Don region.

One (Latin) AB is of the famous silversmith Bragin, Andrej Stepanowitsch, 1888-1897. Assay master (Latin) SB Brandenburg, Stuart Fedorowitsch 1850-1866, here 1866. Townmark of St. Petersburg, Silvercontent (84 Zolotniki)= 875/1000.

To tell you more, one has to inspect the spoon and the forks very intensive. I guess they were sold in the shops of the silversmiths on demand of some customer. I never have seen stamps like that on "normal" flatware from Caucasus.

Hope that helps
Sazikov 2000

IP: Logged