posted 08-15-2001 02:39 PM



---
[01-0812]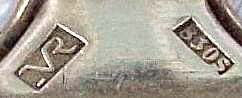 Here are three unidentified Danish pieces from my own collection.
A. This mark is found on a sardine server with a wirework handle. It may not be Danish after all, but it is inscribed "DANMARK 1930". There are no other marks.
B. These marks appear on a handwrought napkin ring. The castle mark on the left has a date of 1921, and C.F. Heise's assayer mark is on the right.
C. These marks are on a small ladle with a hammered handle. I would assume that A.H. Glasser was a New York importer or jeweler of some kind, but I have no information about him. The center mark, which appears to be the manufacturer's trademark, looks like a loopy S with a K tucked in on the left.
Can anyone identify these marks? Does anyone have other examples with these marks? Thanks a lot!
Brent
IP: Logged